Home Health Care from Ascension at Home together with Compassus
The Ascension at Home together with Compassus Home Health program serving Austin, TX, has earned the organization's distinguished title of Home Health Program of the Year. The Texas program outperformed its peers throughout the country in six Pillars of Success categories including regulatory compliance, culture, quality care, service excellence, expanding access to service and fiscal responsibility. Compassus' Pillars of Success program unites the company in a common service vision based on measurable goals driving each program to improve the quality of care for hospice patients.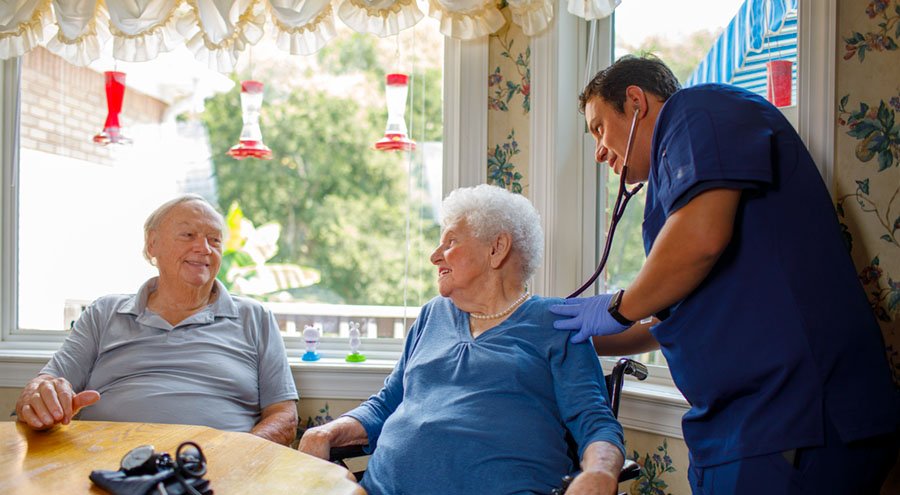 What Is In-Home Health Care?
In-home health care from Compassus provides a unique solution for individuals needing high-quality, compassionate care that can be customized to fit the needs of each patient. From experienced medical professionals to skilled social workers, our team provides personalized support and comfort as you or your loved one navigate life's journey.
With in-home services ranging from skilled nursing visits, personal care assistance, and prescription access, Compassus provides access to personalized, quality care to support our patients and their families with respect and dignity, allowing them to stay in the comfort and security of their own homes while living out their best possible life. We can do that with our skilled home health care services.
Home can be the best place to recover from surgery, injury or to manage a chronic condition. Under the direction of your doctor, our team of licensed nurses, aides and therapists will help you recover and regain your independence.
Caring for older adults at home is often a balance of work, family and personal responsibilities. We fully support families while enabling older adults to safely maintain their quality of life.
Opening your home to a caregiver requires trust. Our staff members complete a thorough onboarding process to ensure the highest standards in at-home care.
Responsive care backed by Clinical excellence
Care from licensed nurses trained in home health
Post-operative care
Rehabilitation – physical therapy, occupational therapy, speech therapy
Managing chronic medical condition with the goal of preventing unwanted hospitalizations
Balance training to improve mobility and prevent falls
Medication assessments and education
Pain management
Comprehensive home safety evaluation
Home medical equipment evaluation
Skilled home health care is generally fully covered by Medicare, VA benefits or private insurance plans.
Specialized care for chronic conditions
We have developed 16 evidence-based management programs covering the most frequently seen conditions.
Congestive heart failure
COPD
Diabetes
Stroke
Dementia
Lung diseases, including asthma and pneumonia
Chronic kidney disease
We want to hear from you!
Thank you for trusting Ascension at Home together with Compassus to care for you or your loved one. Your feedback helps us improve our services and better serve our patients and families. Click the link here or below to leave us a review.