Compassus provides a continuum of home-based services including home health, infusion therapy, palliative care, and hospice care. Partnering with health systems, hospitals, physician groups, and other long-term care providers, we work to ensure that each patient receives the best possible care. In collaboration with our provider partners, we provide comprehensive services tailored to the needs of patients and their caregivers.
Additionally, Compassus has a differentiated set of clinical, operational, and technological capabilities that help us partner with payors, risk-based provider groups, and other risk-bearing entities. In a value-based environment, Compassus partners to drive high quality care, reduce the total cost of care, provide differentiated patient experiences, and align incentives with our partner organizations.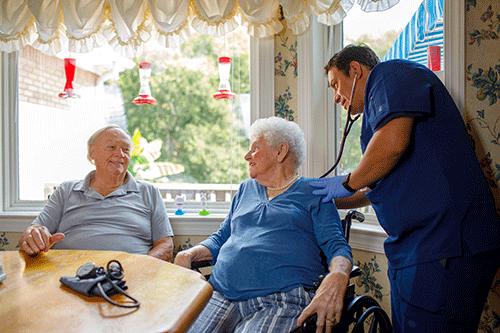 Improving outcomes for our patients is the foundation of the care we provide. Our team of professionals works with our provider partners to ensure a smooth transition from one level of care to the next. Our communication strategy emphasizes the need for an organized approach when transitioning patients as well as coordinated planning to provide the best possible outcomes.
If you're interested in partnering with Compassus, reach out to our team at 833.380.9583 today to get started.
Partnering with Hospitals and Health Systems
Are you considering a joint venture with a best-in-class home health and hospice partner? Compassus has proven to be a successful partner in delivering innovative patient-centered care where patients feel most comfortable—where they live. As a partner, we leverage our considerable resources and clinical capabilities to support health systems in their efforts to better serve the communities they serve.
Our integrated approach includes:
Coordinated care with providers

Care transitions from hospital to home

Comprehensive network of home-based services including home health, infusion services, palliative care, and hospice care

Comprehensive, disease-specific best-in-class care models across

Home visits for assessment and treatment planning

Quality assurance initiatives

Quality and operational reporting to drive continuous improvement initiatives

Advanced analytics focused on predictive modeling support the right care at the right time and help to avoid unnecessary hospitalizations

Skilled Nursing Facility (SNF) at Home model of care

Value-based capabilities including telehealth, remote patient monitoring, centralized triage, and predictive analytics
With 200 locations across 30 states, our extensive network of care teams and resources can help to ensure a high quality of care where people live.
Partnering with Payors, ACOs, and other Risk-Bearing Entities
Are you interested in advancing your value-based care initiatives to improve quality, improve patient experience, and reduce total cost of care? In a partnership with Compassus, your organization can tap into our differentiated clinical care model, advanced analytics and reporting, and value-based care products to improve care for your patients.
Our value-based care products:
Advanced Care Management
Advanced Care Management (ACM) is a care model focused on improving care and clinical outcomes for patients with serious illness. The foundation of our ACM model is palliative care, which includes symptom management, advanced care planning, goals of care discussions, medication reconciliation, and hospice transition support if needed. In the ACM model, Compassus uses predictive analytics to identify high risk patients who could benefit from palliative services, initiates patient outreach through multiple engagement channels, and provides home-based palliative and care management services with an interdisciplinary team.
With Advanced Care Management, our partner organizations have experienced total cost of care reductions in the last year of life up to 35%! We achieve savings through increased access to high quality hospice care and reductions in unnecessary emergency department visits and inpatient stays.
SNF at Home
Skilled Nursing Facility (SNF) at Home is a post-acute clinical model that allows more patients to recover at home with advanced clinical and ancillary services. The foundation of our SNF at Home model is home health, which provides skilled nursing, therapy, aide, and social work services to support patient recovery. In the SNF at Home model, Compassus patients have access to higher intensity clinical services, personal care, meal delivery, non-emergency transportation, and durable medical equipment (DME). In this model, our patients have access to a clinical support and triage team daily through in-person visits as well as virtual telehealth and remote patient monitoring services. Each of these model components are deployed at the patient level to provide a tailored and personalized patient experience to improve patient recovery and keep patients safe at home. Compassus collaborates with health system case management teams to appropriately identify and transition patients into our SNF at Home model, greatly improving patient access to home-based post-acute care and creating a seamless discharge process from hospital to home.
With SNF at Home, our partner organizations have the opportunity to increase access to home-based recovery solutions that reduce unnecessary rehospitalizations and improve the patient experience.    
Partnering with Hospice Agencies
If you're considering selling all or part of your agency, partnering with Compassus can strengthen your business and assist with an exit strategy. Our team can support this transition and provide a smooth transition for both patients and employees. We believe that our shared commitment to providing superior care through a collaborative approach will ensure the best outcomes for patients and their families.
The Benefits of a Partnership with Compassus
What sets Compassus apart? Whether you're a health system or hospice agency, partnering with Compassus provides a number of benefits, including:
Improving outcomes – We work to thoroughly understand and address both our patient's clinical and non-clinical circumstances and tailor our care accordingly

Communication rooted in coordinating patient, family, and physician engagement – Our team of clinicians and care coordinators provide proactive patient-centered communication

Working with partners to automate and integrate medical records – Our integrated process allows for smoother transitions from one level of care to the next

Improving transitions from acute to post-acute care to ensure continuity of care – At every step of the care journey, we strive to provide a seamless transition

Pathways that reduce variations in care and ensure consistent quality – Our team of professionals works to identify and address any potential barriers that may prevent our patients from obtaining the best care
With you, Compassus can continue to improve the quality of care for patients and their families.
Reach Out to Compassus Today
Start the conversation by reaching out to Compassus today. If improving patient outcomes, providing high-quality in-home care, and providing seamless transitions is what you have in mind, then our proven track record of success can help make it happen.
As you navigate the possibility of a partnership or joint venture, our team is here to answer any questions you may have and can provide more information on how Compassus can bring value to your organization. Reach out to our team at 833.380.9583 or fill out the form below to learn more about the Compassus difference.