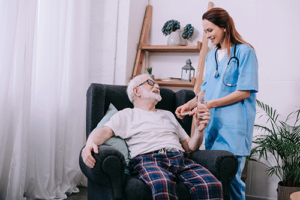 Hospice care is not about giving up. It is about letting others step in to help you live each day to the fullest. Responsive support begins with a plan of care based on your goals and values. The plan outlines how the hospice team will meet your needs, and it's always adapting to changing situations.
Comfort care supports quality of life for patients and their families and helps reduce unwanted hospital visits. Call Compassus today at 833.380.9583 to learn how we can help you and your loved ones find hospice care near you.
Hospice care is a type of healthcare that aims to reduce suffering and promote comfort at the end of an individual's life. Pain and any other symptoms are managed around the clock, and the hospice team focuses greatly on spiritual and emotional health as well. 
The foundations of hospice include nursing care with an emphasis on managing symptoms, practical assistance, and emotional support. Caring for a loved one at home can be challenging. The goal of our hospice team is to provide timely services to help your family make the most of your time together.
Hospice care provides:
Home medical equipment and personal supplies

Around-the-clock access to care

Management of complex pain and other symptoms

Hospice aide for personal care and light homemaking

Medical social services

Spiritual care and support

Physical, occupational, dietary, and speech therapies

Support from volunteers

Short-term inpatient respite care (relief) for family caregivers

Ongoing Grief counseling for the patient, family, and friends
Hospice has four levels of care, carried out by a team of professionals to ensure dignity and comfort at the end of an individual's life.
There are four levels of care in hospice, and all are covered by Medicare. These levels are:
Routine hospice home care — Regularly scheduled visits to assess and address the emotional, spiritual, and physical needs of the patient and their family members.

Continuous home care — A minimum of eight hours a day of home care while the patient is not in a nursing facility.

General inpatient care — The patient receives hospice care in a nursing facility and receives treatment that cannot be provided outside of a medical facility.

Respite care — Short-term relief for caregivers who live with the patient.
A doctor and hospice staff will assess a patient's needs to determine what level of care and which hospice services they require, and levels of care can change with the decline of the patient's condition.
At Compassus, a hospice doctor and hospice-trained registered nurse (RN) manage care. A hospice nurse will visit your home on a schedule agreed upon in the plan of care. An on-call nurse is available by phone 24/7 to address your needs with hospice end-of-life care.
The home hospice team includes:
A doctor to manage pain and other symptoms

A nurse for medical needs and help for caregivers

Hospice aides to help with personal needs and tasks

A chaplain for spiritual care

Social workers to help with emotional and financial needs

Volunteers for companionship or light errands
The hospice team also provides support for the family, most significantly in the form of relief and grief counseling.
Relief for Family Caregivers
Respite care helps family caregivers receive much-needed rest or time for important events. Medicare benefits pay for patient transport and up to five consecutive days of inpatient care at a Medicare-approved nursing facility or hospital.
Patients may require short-term continuous home care or general inpatient care as the need arises. A referral from your doctor is required for these services to be covered by Medicare or private insurance plans.
The pain of loss can begin long before death. Hospice offers patients and their families emotional support from anticipatory grief, through the passing of a loved one and 13 months of follow-up counseling.
Comfort care is covered by Medicare, VA benefits, Medicaid, and most private insurance companies. Hospice is a financial relief for many families because services such as medication, equipment, and supplies are covered by hospice benefits with few or no out-of-pocket expenses. 
Certain criteria must be met for Medicare to cover hospice care:
A doctor has determined that a patient has a terminal illness and a life expectancy of six months or less

The patient waives treatment for the illness and signs a document electing to begin hospice care

The nursing facility is Medicare-certified and under contract with Medicare
At any time, patients can choose to end hospice care and resume treatment.
Choose Compassus for Hospice Care
The goal is not a good death—the goal is a good life all the way up to the very end. Compassus provides comfort and preserves dignity in our compassionate end-of-life care. Learn how our team can help you and your loved ones by calling 833.380.9583 or reaching us through our online contact form.