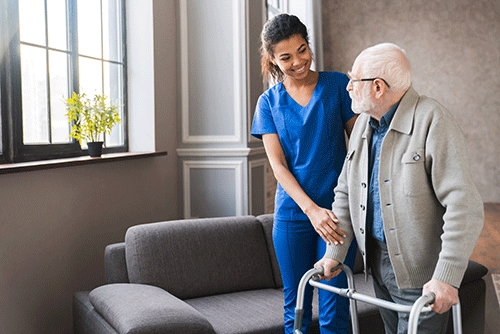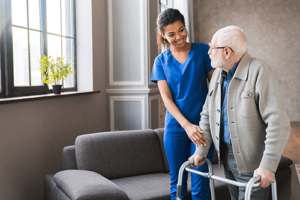 If you are considering home infusion therapy, you may have many questions about what to expect. Whether you are looking for information on in-home infusion services or simply want to learn more about the process of intravenous therapy, our team is here to help. Ascension at Home Together with Compassus is available to you and your family to answer some of the most asked home infusion questions.
At Ascension at Home Together with Compassus, we recognize that in-home infusion is a personal choice, and we are committed to providing you with high-quality care in the comfort of your home. Our in-home infusion services can be tailored to meet your specific needs and concerns, and our team is here to work closely with you to ensure that your experience is as seamless and stress-free as possible. Don't wait to reach out to us at 833.380.9583. We can answer your home infusion questions and help you through the process.
Common Home Infusion Questions
Most people worry about the time it takes and the cost associated with home infusion. Our team is here to help answer the most common home infusion questions about services and procedures. The good news is that in-home treatments are usually more affordable and can be completed in a much shorter time than traditional hospital visits. Moreover, many insurance policies provide coverage for this type of healthcare service as well, making it even easier to utilize at home. All these factors help make home infusion an increasingly popular choice for those seeking a convenient, cost-effective care solution.
If you are considering in-home infusion therapy, here are some of the most common questions that people have about this type of service.
Infusion Therapies Provided by Ascension at Home Together with Compassus
We offer a variety of infusion therapies in the comfort of your home. These include:
Pre-discharge assessment

Investigation of alternative financial arrangements for therapy

Evaluation of therapy and equipment needs

Peripherally inserted central catheter (PICC) certified registered nurses

State-of-the-art infusion and enteral pumps

Lab monitoring

Antibiotic/antifungal/antiviral therapy

Pain management (subcutaneous, intravenous)

Neuropathies/CIPF

Infectious disease treatment

Oncology treatment

Transplant care

Blood disorder treatment

Pediatric infusion care

Total parenteral nutrition (TPN)

Hydration management/electrolyte replacement

Anti-emetic therapy

Corticosteroid therapy

Deferoxamine therapy

Magnesium infusions

Respiratory unit-dose medications

Nutritional support
Our skilled care team is committed to providing the highest quality care in the comfort and convenience of your own home. Get in touch with us today to learn more about our services.
Get Your IV Therapy Questions Answered by Ascension at Home Together with Compassus
We understand that in-home infusion therapy can sometimes seem like a complicated process, and that's why we're here to help. We specialize in in-home infusion and IV therapy services and are here to help you make the best choice for your healthcare needs. Our knowledgeable staff can help answer any home infusion FAQs that you may have. Don't hesitate to contact us today if one of your questions wasn't answered in this FAQ.
We look forward to helping you explore all of your in-home infusion options. Call us at 833.380.9583 to speak with our team about home infusion therapy.