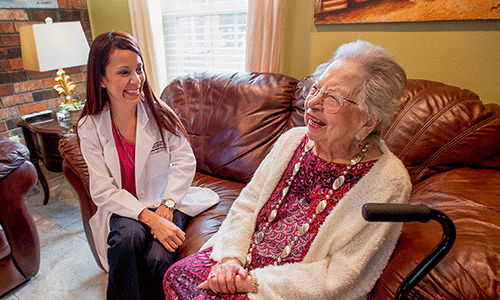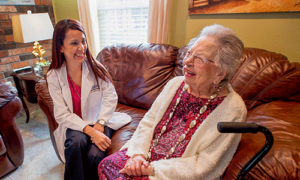 Compassus provides a full suite of care services delivered where people live to meet their varying level of care needs. We're continually evaluating the needs of patients in the communities we serve and committed to expanding our services to meet the overwhelming preference of most people to receive care where they live whenever possible.
Hospice offers patients peace and comfort by reducing the stress and pain of a serious illness. The goal of hospice is to help patients live as well as they can, in their environment of choice, when life expectancy is limited.
Home Health provides support for people needing continued medical assistance after discharge from a hospital or inpatient facility, or as part of their care plan for an illness, chronic health condition or injury. It can support a patient's smooth transition back to home or help them stay in their living environment while receiving ongoing medical care.
Palliative Care is a whole-person approach to care that considers a patient's physical, emotional and spiritual needs and provides relief from the symptoms and stress of serious illness. It can be provided at any stage of illness, including alongside curative treatment.
Infusion allows patients to receive intravenous medication safely and quickly in their current living environment, without the added risk of exposure from a hospital or acute-care setting.
Advanced Care Management helps address patient needs early on in their care journey with a goal of improving satisfaction through proactive, transitional case management that considers curative care, palliative care, hospice, advance care planning and more, depending on their condition and goals of care.
SNF at Home helps patients recover safely in a familiar living environment when an enhanced level of support is needed and fills the gap between home health and a hospital or inpatient facility.
At-home health care allows your loved one to remain in the comfort of their own home, surrounded by the people and things they care about most. Yet we go beyond just offering at-home health services and care teams provide care and support for those who need help managing chronic care or recovering from an illness, injury, or surgery.
At-home care also allows us to partner more closely with the patient and their care circle—family members, care coordinators, physicians, and other care providers.
 Come experience care that combines personalized attention, clinical excellence, and a collaborative approach. We look forward to taking care of you or your loved one.
Find a local Compassus service near you and call 833.380.9583 to speak with a care team member.