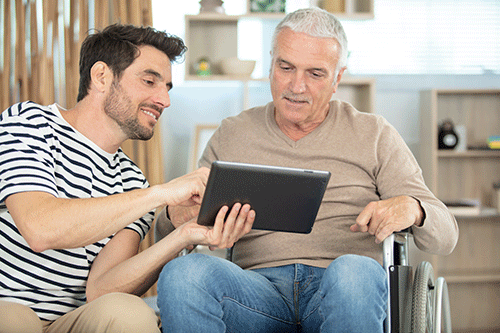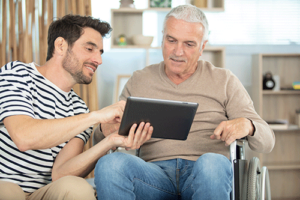 Palliative care is specialized care that focuses on relieving the symptoms and stress of serious illnesses, such as cancer and chronic heart conditions. Choosing palliative care can be complex, as it can be costly and require paying out of pocket. At Compassus, our dedicated team of palliative care specialists understands these challenges and is committed to providing the best possible care for our patients and their families.
We offer flexible payment options tailored to meet individual needs, so the focus can be on what matters most—your loved one's well-being. To learn more about paying for palliative care at Compassus, reach out to us today at 833.380.9583. We are here to help you and your family through this challenging time.
The Cost of Palliative Care
Palliative care consultations are covered by Medicare, Veteran's Affairs (VA) benefits, and most private insurance plans. Co-pays may apply. A consultation does not guarantee ongoing care, but it is your first step to getting support. Palliative care should never be something that people have to worry about the cost of. However, it can be a worry for most people.
At Compassus, we aim to make sure palliative care is accessible to anyone who needs it. Our team strives to provide world-class, quality care while being conscious of cost at all times. We offer affordable options and strive to keep our services affordable while ensuring they provide real value to our patients. Remember, receiving palliative care does not signal giving up hope for recovery. Support can begin at any stage of an illness, with people moving in and out of care as needed. 
Some of our helpful palliative care resources include:
If you or a loved one is facing a severe illness and needs help paying for palliative care, contact Compassus today. When it comes to something as crucial as palliative care, ensuring its accessibility shouldn't burden those seeking help. Compassus understands this and is committed to providing sensible prices so that you can get the peace of mind you need.
Medicare and Palliative Care
With Compassus, patients have access to Medicare-approved services designed to help them live more comfortably and enjoy a greater quality of life. Our professional team of compassionate nurses, social workers, and healthcare professionals can provide personalized care throughout the entire process, from the initial diagnosis to end-of-life care. Along with helping to manage physical symptoms and pain, we also offer resources like hospice referrals and counseling options. Whatever a patient's needs may be, let Compassus support your loved one.
Paying for Palliative Care with Your Medicare Coverage
If you plan on paying for palliative care through your Medicare coverage, you must be aware of the various options available to you:
Medicare Part A coverage – A patient may be able to receive palliative care, much like getting care from other medical specialists. To get palliative care at home, request a referral for home-based palliative care, which Medicare covers under some circumstances.

Medicare Part B coverage – This coverage may cover some of the services and supplies to treat the disease. It may cover some palliative care treatments and medications if Medicaid covers you.
Regardless of your financial situation, paying for palliative care should never be a burden. At Compassus, we offer flexible payment options and work with you to find the right plan that meets your needs. Whether you use Medicare coverage or another private insurance provider, our team is here to help you get the support and care you need.
Veteran's Affairs (VA) Benefits and Coverage
Most Veteran's Affairs facilities have a palliative care consult team (PCCT) for palliative and hospice services provided in VA facilities, community hospitals, community nursing facilities, and at home. These services are part of the VA's Medical Benefits Package.
If you are a veteran and need palliative care, the VA can help you navigate your coverage options. Depending on your specific needs, they can assist with paying for palliative care services on a case-by-case basis. Contact your healthcare provider or their hotline for assistance if you have any questions or concerns about paying for palliative care through the VA.
Understanding Palliative Care Insurance Coverage
Many private insurance plans also cover palliative care as part of their chronic care, long-term care, or hospice benefits. If you are unsure whether your private insurance plan covers palliative care, contact your provider for more information. Additionally, call Medicare, Medicaid, or your insurance provider to confirm coverage for specific services. Ask about co-pays for those services.
At Compassus, everyone should have access to affordable, high-quality palliative care. We provide support and guidance throughout the entire process so that you can focus on getting the needed care without worrying about the cost.
Learn More About Paying for Palliative Care at Compassus
Choosing palliative care is challenging enough, don't let paying for it be an added hurdle. At Compassus, we understand the unique needs of our patients and work with you to find affordable payment options that fit your family's situation. We are here to help you and your family every step of the way. To learn more about paying for palliative care at Compassus, contact us online today or speak with one of our caring professionals at 833.380.9583.