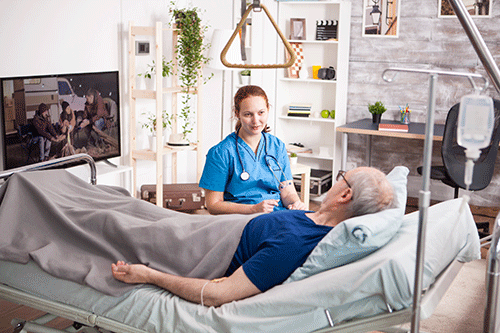 Hospice offers comfort to patients and their families by reducing the stress, pain, and other symptoms of a serious illness. It is about helping people live as well as possible when life expectancy is limited.
Our Medicare-approved support extends to family members with practical, emotional, and spiritual care throughout the hospice journey. With help from our team, people can live with dignity in the place they call home.
Looking into hospice care for a loved one? Call Compassus at 833.380.9583 today to get started with our care services. We will contact you within two hours of receiving a referral. We're available 24 hours a day, seven days a week, even during holidays.
What Hospice Care Involves
At Compassus, our approach to hospice care is simple and effective. We deliver personalized hospice services for each patient's needs. Our hospice care program is designed to bring comfort, peace, and dignity to those who are facing end-of-life concerns.
Managing symptoms, providing practical help, and offering emotional support are the foundations of hospice care. Being a primary caregiver can be a challenge, and when it comes to end-of-life care, the support of a team that has navigated hospice before is invaluable.
Hospice care includes:
Home medical equipment and personal supplies – We provide hospice-approved medical supplies, such as oxygen, walkers, and wheelchairs.

Around-the-clock access to care – Our hospice care teams are always available to answer questions or provide support, no matter the time of day.

Management of complex pain and other symptoms – We will develop an individual plan to manage each patient's symptoms using hospice-approved medications and treatments.

Hospice aide for personal care and light homemaking – Our hospice aides provide help with daily activities, such as bathing and dressing.

Medical social services – Our hospice social workers will provide support and resources to individuals, families, and caregivers.

Spiritual care and support – Our hospice chaplains can provide spiritual care and counseling to those who need it.

Physical, occupational, dietary, and speech therapies – These services are tailored to the individual needs of hospice patients and can help them maintain a higher quality of life.

Short-term inpatient respite care for family caregivers – Respite care gives caregivers the opportunity to rest and recover.

Ongoing grief counseling for the patient, family, and friends – Our hospice team is here to provide ongoing counseling and support.
Every aspect of hospice care is tailored to meet the individual's needs and provide hope, comfort, and quality of life at any stage. We serve as a true partner in the hospice journey and collaborate with both loved ones and medical staff.
What to Expect from Hospice Care from Compassus
With locations in 29 states, our hospice care services are available to anyone who needs them. Hospice is not about giving up. It's about living your best life possible with the time you have left.
Our hospice care services are provided by a treatment team that includes doctors, nurses (RNs), social workers, chaplains, licensed aides, bereavement counselors, and volunteers. They work together to provide comprehensive hospice care that is centered around the individual's needs, and offer this care in collaboration with your loved one's primary doctor.
Pain management, symptom control, and support for loved ones are the hallmarks of hospice care. While the amount of time that the care team will spend with a patient and family varies, hospice teams are available 24 hours a day.
Did you know that hospice is fully covered by Medicare? You can rest assured that nursing services, medications, supplies, and equipment are covered when there is a diagnosis requiring hospice care.
Quality care and support in the place where your loved one feels most comfortable—at home. Reach out to Compassus today at 833.380.9583 or connect with us online to find a care team near you.