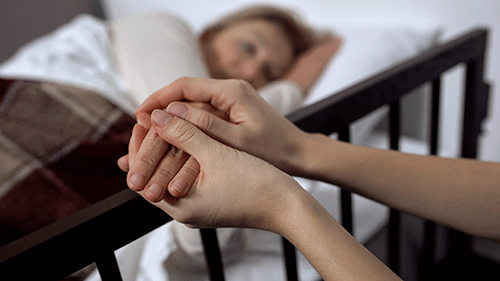 If you've been referred to hospice care, you might not know what services are included with this type of care. At Compassus, hospice care consists of medical care under your doctor's direction and provided by hospice-trained RNs in the comfort of your own home and it also involves emotional and spiritual support for the patient and their family.
In hospice care, we work to reduce pain and discomfort as much as possible while also providing emotional support throughout the hospice journey. We're here to serve as a partner with medical teams and caregivers so that all of our patients can live with dignity. Our experience teaches us that listening is the first step to providing exceptional hospice care. When we understand your unique needs, you receive personal and compassionate end-of-life care support.
Reach out to Compassus at 833.380.9583 to learn more about our hospice services.
How Hospice Care Supports Medical Needs
Although hospice care is designed for end-of-life care, hospice services don't just provide comfort and support when someone is nearing the end of life. In hospice care, there are medical services available that are tailored to the hospice patient.
Some of these hospice services include:
Doctor-directed care – Care is coordinated with your doctors

Pain management – Depending on your priorities, hospice care assists in managing pain

Nursing care from hospice-trained RNs – Regular visits from hospice-trained medical professionals

Hospice aides to help with the tasks of daily living – If tasks like dressing, bathing, or preparing meals become difficult, hospice aides can help

Medications – Depending on the diagnosis and hospice plan, hospice care may include medications

Home medical equipment – This can include a hospital bed, oxygen, chairs, and more

Personal care supplies related to the hospice diagnosis

Short-term inpatient care – Also called respite care for family caregivers, hospice services may include short-term stays in an inpatient hospice facility

Continuous care during crisis periods – Hospice care can provide 24-hour hospice services if needed

Physical, occupational, dietary, speech, and respiratory therapies – As allowed by hospice services, hospice care can provide therapies
At every turn, Compassus hospice services are available to provide comfort and support for you and your loved ones.
Practical, Emotional, and Spiritual Support in Hospice Care
Patients and families coping with advanced illnesses need emotional, psychological, and spiritual support from experienced professionals. The services hospice care provides can make all the difference in the hospice journey. Care is provided wherever you call home, whether that's a hospital, nursing home, assisted living, or your personal residence.
At Compassus, our hospice professionals are here to provide:
Access to hospice care 24 hours, 7 days a week

Medical social workers to help navigate the medical system

Help with transitions

Crisis counseling

Spiritual care and support

Trained volunteers

Some locations offer music therapy, pet therapy, and more

Pre-bereavement counseling and ongoing grief support
Role of the Hospice Chaplain
Compassus offers hospice chaplains to provide spiritual support and counseling for hospice patients and families.
"My job is to listen, counsel, and help patients feel safe. I let them know they matter." – Hospice chaplain Dennis Zimmerman
Role of the Hospice Social Worker
When patients or families choose hospice, it's the social worker who steps in to be their advocate, advisor, comforter, and guide. This resource provides access to hospice-specific services and resources such as transportation, benefits assistance, counseling, and bereavement care.
Compassus: Compassionate Care for Every Step of the Journey
At Compassus, we are driven to provide hospice services that honor each person's unique needs. We work with patients and families to create hospice plans designed for comfort, compassionate care, dignity, and respect.
Call 833.380.9583 today to learn more about our hospice services.