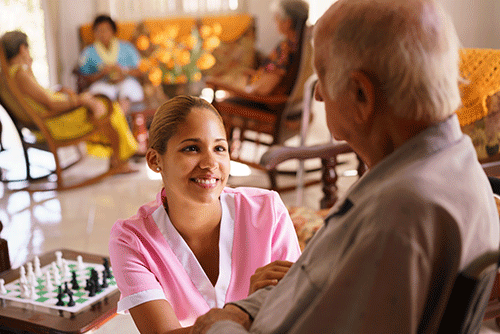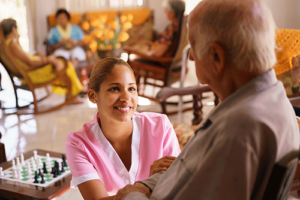 Compassus aims to ease some of the stress related to a loved one needing hospice care. You can trust us to compassionately provide services, including hospice, home health, home infusion, and palliative care. Contact us at 833.380.9583 for more information and to learn how we can support you and your loved ones.
"Hospice offers our residents specialized end-of-life care when they need it most," said Maria Sady with Genesis Healthcare in Westlake, Ohio. "Hospice really earns its keep when helping patients or families transition from fear to peace, from pain to comfort, from life to death and throughout the grieving process."
Benefits of Hospice Care in Nursing Homes
Hospice care in a nursing home provides you and your family with an extra layer of support during difficult times. Hospice care includes expert management of pain and other symptoms, spiritual counseling, care planning, and grief support.
Hospice care can be a great benefit for those in nursing facilities as it includes a team of highly trained professionals dedicated to providing the most comfortable and dignified end-of-life care possible. This includes things like pain management, spiritual support, and emotional comfort. In addition, hospice may provide access to special services such as wound care, hospice volunteers, and music therapy. The hospice team also helps families navigate the difficult decisions that come with end-of-life care.
Some of the most significant benefits of hospice care include the following:
Unwavering focus on managing pain and other symptoms so you and your family can focus on the time you have together

Reduce the revolving door of rehospitalizations

Expertise in advance care planning, so patients have greater control of their end-of-life care

Extra spiritual and emotional support

Helping patients and families access medical social services

Grief counseling for up to 13 months after the passing of a loved one
By providing guidance and resources for the family to make informed choices about their loved one's care, hospice helps ensure that the patient receives the best quality of life possible in their final days. Ultimately, hospice care can help those in nursing facilities live their last days with dignity, comfort, and peace of mind. 
The Option of Palliative Care
Families may also wonder if palliative care is beneficial in a nursing home setting. Palliative care specialists have extensive training in managing complex pain and other symptoms. They also help families navigate healthcare systems to receive extra support for advanced care planning and care transitions. Care is available at any stage of illness. Medicare, VA benefits, and many private insurance plans cover palliative care consultations.
Don't Nursing Homes Provide Hospice Care?
Nursing home staff have specialized training in custodial care, while hospice staff are experts at end-of-life care. Custodial care focuses on the activities of daily living, such as eating, bathing, and maintaining the quality of life.
Hospice is comfort care to reduce the stress, pain, and other symptoms of a terminal illness. It's about helping patients, and their families, live as well as they can when life expectancy is limited and is covered by Medicare when administered in a nursing facility.
Medicare Covers Long-Term Hospice Care in Nursing Homes
Patients in a nursing home or skilled nursing facility are eligible for the Medicare hospice benefit if they meet the following criteria:
A doctor and a hospice medical director certify the patient has a terminal illness, meaning a life expectancy of six months or less

The patient signs a statement electing hospice care and waiving treatments for the terminal illness; patients still receive treatment and care for other medical conditions

The nursing facility has a contract with a Medicare-certified hospice provider; all Compassus locations are certified by Medicare 
It is also important to note that patients may stop hospice and restart medical treatments at any time if they change their minds. 
Consider Compassus for Palliative Care
Difficult times call for compassionate support. Call a Compassus location near you for information about consultations and your care options. We can also help you with referrals, Medicare, and insurance issues as well. Call 833.380.9583 or fill out our online contact form.