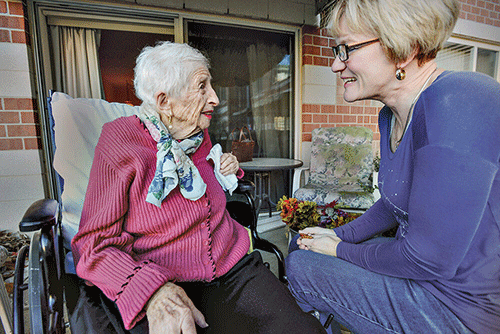 Your comfort, safety, and quality of life guide every step of our care. We start by listening. When we understand your needs and values, you receive support that helps you and your family make the most of your time together. At Compassus, our hospice resources for caregivers and patients are designed to help navigate the challenges of end-of-life care. Whether you need advice on managing symptoms or emotional support, our team is here to help. Contact us at 833.380.9583 to learn more about our hospice care information for patients and caregivers and our advance care planning. 
Hospice Information for Caregivers and Patients
Our hospice resources and information are designed to help you navigate those challenges, providing support and guidance when you need it most. Whether you need advice on managing symptoms or emotional support, our team is here to help. Here is some of our helpful hospice care information:
Whether you are a caregiver or facing end-of-life yourself, it is crucial to have access to reliable hospice information.
Hospice Care at the Right Time
Families facing medical crises sometimes rush decisions about end-of-life care. David Kessler helps you understand hospice timing and options.
End-of-Life Care Timing and Preparation
When a loved one is reaching the end of their life, it can be challenging to know when it's time to start thinking about hospice care. But making decisions sooner rather than later can help ensure that your family receives the proper care at the right time.
At Compassus, we understand the challenges and emotions of being near the end of your life. Our hospice resources for patients and caregivers are designed to provide the support and guidance you need when facing these difficult decisions.
Some of our resources for end-of-life care include:
We believe all individuals deserve access to the best possible end-of-life care.
Hospice Resources for Caregivers and Patients
During such a difficult time, with the proper resources, you and your family can make informed decisions about end-of-life care. Compassus offers a wide range of information and support to help you navigate this challenging period, including guidance on hospice eligibility criteria, hospice care at home, and palliative care information. Some of our resources include:
24/7 access to care and our hospice team
Home medical equipment and medications
Personal care supplies
Care coordinated with your doctor
Specialized care for veterans
Physical therapy, dietary counseling, occupational therapy, and more
Hospice aides for personal care and homemaking services
Respite care (relief) for family caregivers
Spiritual care and support
Continuous skilled nursing care for a brief time to help patients through a crisis while honoring their wish to stay at home
Compassus has the resources and knowledge to help you and your family during such a challenging time. From individualized care plans to specialized care services for veterans, we offer everything you may need to make the most of your time together.
Our COVID-19 Precautions at Compassus
Compassus is taking extraordinary COVID-19 measures to protect our patients, families, and colleagues. Our care teams continue to visit with you and your family because we understand that you may need us most at times like this.
For more information about our COVID-19 Precautions or how we can help you and your family during this difficult time, visit us online or contact us today. We're here for you.​
Get Access to More Hospice Resources for Caregivers from Compassus
Visit our location pages to speak with someone in your area about Medicare-approved hospice, palliative care, or in-home health. Our admissions coordinator will promptly contact all responsible parties to plan consultations or patient assessments. We work with you, family caregivers, and healthcare professionals on a personal plan for care. We bring hospice care to where the patient calls home, whether in a private home, nursing home, or other care facilities. We're here to listen and offer help. Call us 24/7 at 833.380.9583.