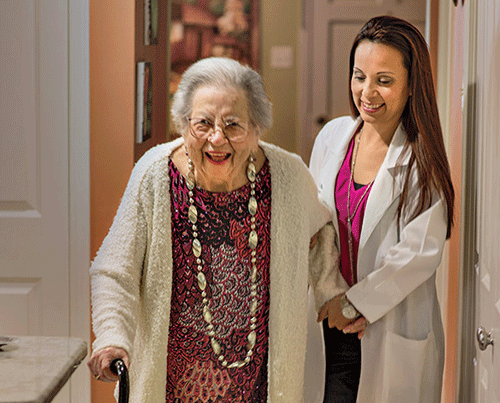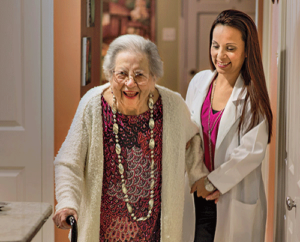 The terms home health care and home care sound alike. When you or a family member need support at home, it's essential to understand the difference. That one word—health—signifies that home health care is medical in nature. Care typically begins with a doctor's prescription for at-home support provided by licensed medical professionals.
The visiting health care team may include registered nurses, licensed practical nurses, therapists, medical social workers, or home health aides. They are trained to help people regain strength, maintain independence, and prevent unplanned emergency care or rehospitalizations. Understanding the difference between home health care vs. personal care is crucial so that you or your loved one receives the care they need. Call Compassus at 833.380.9583, and we can help you learn more about the options available to your and your family.
What Is Home Health Care?
Home health care is sometimes called skilled home health or medical home health. It is at-home support for people discharged from a hospital or skilled nursing facility who cannot safely travel to a doctor's office or clinic. It can also be prescribed for rehabilitation after a fall, other injuries, or chronic severe health conditions.
Home health care can include:
Administering prescription medicines, including IVs

Fall prevention

and mobility assessments

Medical assessments

Monitoring health status

Physical and occupational therapy

Wound care
Most home health care services are covered by insurance. When prescribed by a doctor, home health visits are generally covered by Medicare, veterans benefits, and some long-term care or private insurance policies. Medicare pays up to 20% of the cost for durable medical equipment approved in a care plan. It does not pay for 24-hour care at home.
Home care is non-medical and does not require a doctor's referral. It supports people who need help maintaining their independence and daily routines at home. The non-medical care staff doesn't provide wound care or dispense prescription medications. However, they can offer medication reminders and inform families about general wellness.
Most non-medical home care is private pay. Some long-term care policies, Medicaid or Medicare Advantage (part D) plans, include home care benefits. Wartime veterans, 65 years and older, may be covered by the Aid and Attendance benefit from the Department of Veteran Affairs.
Home Health Care vs. Personal Care
Home health care does not provide physical assistance. Caregivers might perform light housekeeping, meal preparation, shopping, or transportation. An important task is enabling seniors to maintain social connections and activities that preserve their quality of life. Agency home health care staff are not required to have training for state licensing.
While personal care includes the duties of companion care plus in-depth, hands-on support, caregivers help with the activities of daily living, including assistance with bathing, feeding, dressing, grooming, and incontinence care. Personal care is sometimes referred to as "custodial" or skilled nursing home care. Many states require personal care staff to have the training and continuing education.
In summary, home health care focuses on medical needs and is covered by insurance. In contrast, home care assists with basic daily activities and may be private pay or covered by insurance. Whether you need medical support at home or non-medical help with everyday tasks, the experienced team at Compassus is here to help.
Home Health Care vs. Companion Care
Choosing home health care or companion care for yourself or a loved one can be daunting. It is important to weigh the pros and cons of each type of service. Home health care gives the individual access to a range of experienced professionals, including nurses and physical therapists, who provide personalized medical services in the home to help promote recovery and stability.
On the other hand, companion care provides companionship and safety at home as well as light household tasks such as meal prep, laundry, and shopping assistance. This type of home care centers around offering supportive encouragement to patients while they manage their daily activities and routines. Some benefits of home health care include:
Access to experienced professionals who provide medical oversight and support

Individualized medical services tailored to your needs
Your unique home-care needs should ultimately guide your decision between home health care and companion care.
Contact Compassus for Help Understanding the Difference Between Home Health Care and Personal Care
When selecting a home care agency, be specific about the services you require, scheduling, and how they cover caregivers who must miss a shift. Ask about how they handle personal and medical emergencies. Good communication and social skills are a must for good home care. If possible, interview caregivers and introduce them to your loved ones.
Home health care by Compassus or Ascension at Home together with Compassus, is unique because we offer seamless support, including palliative care, speech therapy, hospice, and pain management. We also assist you with setting up and maintaining at-home medical equipment and supplies.
Whatever your home care needs, Compassus is here to support you and your loved ones. Contact us today at 833.380.9583 to better understand home health care vs. personal care and learn how we can help you feel comfortable, safe, and supported in the comfort of your home.