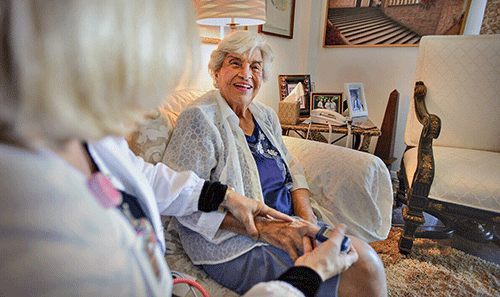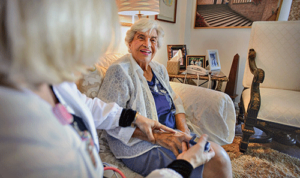 Home infusion therapy can benefit many patients, especially those who are homebound or have difficulty leaving home. This type of therapy involves receiving intravenous infusions in your home, often with the support and guidance of a home care nurse. Ascension at Home Together with Compassus offers comprehensive home infusion services tailored to each patient's needs and goals.
Our experienced home care nurses work closely with you, your caregivers, and your prescribing physician to ensure you receive the highest quality care in a safe and comfortable home environment. Whether you need antibiotic therapy for an infection, pain management following surgery, or intravenous nutrition support due to malnutrition or other medical conditions, home infusion therapy can help get you back on the path to health. 
If home infusion therapy sounds like the right choice for you, contact Ascension at Home Together with Compassus today at 833.380.9583 to learn more about how our care services can help.
What Is In-Home Infusion Therapy?
In-home infusion therapy is a specialized form of home care that involves delivering medical treatments such as intravenous (IV) infusions, injections, and other therapies directly to patients in their homes. This type of treatment is ideal for individuals who cannot travel to a hospital or clinic due to illness or mobility issues and those who wish to receive treatment in the privacy and comfort of their homes.
We care for patients where they feel most comfortable—in the place they call home. Care at home often costs less, and some patients have told us they recover faster and experience less stress.
Opening your home to a caregiver requires trust. Nurses visiting your home are members of the Ascension at Home Together with Compassus team and not from third-part organizations. Our nurses complete a thorough onboarding process to help ensure professional care is delivered.
Therapy at home reduces exposure to hospital-acquired infections

In-house pharmacy helps ensure fast access to medications

Call us for help with referrals, insurance coverage, or prior authorizations
Our staff is happy to answer any questions about home infusion therapy. At Ascension at Home Together with Compassus, we genuinely believe in putting patients first, and our home infusion services are just one more way we help make this possible.
Why Choose Home Infusion Services at Ascension at Home Together with Compassus?
Our team of well-trained and experienced professionals is available to provide comprehensive nursing services, nutrition support, medication, and equipment needs so that you can focus on feeling better. With Ascension at Home Together with Compassus' home infusion services, you can get the care you deserve without leaving the safety of your home—allowing you more control over your well-being while having total peace of mind that we're only a phone call away.
Our home infusion services include:
Pre-discharge assessment

Investigation of alternative financial arrangements for therapy

Evaluation of therapy and equipment needs

Neuropathies/Chronic inflammatory demyelinating polyradiculoneuropathy (CIDP)

Infectious disease treatment

Transplant care

Blood disorder treatment

Total parenteral nutrition (TPN)

Anti-emetic therapy

Antibiotic/antifungal/antiviral therapy

Pain management (subcutaneous, intravenous)

Hydration management/electrolyte replacement

Corticosteroid therapy

Magnesium infusions

Nutritional support

Injectable osteoporosis drugs for women
Our clinical excellence includes the following:
ACHC-accredited home infusion, specialty pharmacy, AIS, nursing, sterile compounding, and PCAB

Nutrition support 

Lab monitoring and management

First dosing

Patient education 

24/7 clinical support

Peripherally inserted central catheter (PICC) certified registered nurses

State-of-the-art infusion and enteral pumps

Pediatric and adult capabilities

Open drug formulary/access
At Ascension at Home Together with Compassus, our mission is to provide compassionate home infusion services that improve the quality of life for patients and families. Whether you need therapy for a chronic condition or are recovering from surgery or illness, our skilled nurses will work with you and your doctor to ensure the best possible care in the comfort of your home.
Benefits of IV Therapy at Home
IV therapy at home offers more than just convenience—it can be vital for those with medical conditions that need regular hydration, nutrient replenishment, or drug infusion treatments. It allows you to receive your treatments in the comfort of your own home. It helps ensure you're receiving the fluids and medications necessary to meet your needs without needing to be hospitalized or travel long distances to receive assistance. 
With mobile IV services that come directly to your home, you can avoid the hassle of coordinating with transportation and save time not having to go back and forth from a hospital or clinic. Plus, because a professional and FDA-regulated pharmacy administers the medication in each state, you can rest assured knowing that you're getting high-quality care outside a medical facility. Home IV therapy is quickly becoming an invaluable treatment option for many medical situations.
In-Home Infusion Therapy Locations
At Ascension at Home Together with Compassus, our home infusion services are available in many major cities, including Milwaukee, Madison, Green Bay, Wausau, and Lansing.
Wisconsin
Call us at 800-648-8055 for more information about home infusion therapy in Wisconsin.
Our current locations in Wisconsin include:
Appleton Infusion
1688 North Casaloma Drive
Appleton, WI 54913
Marshfield Infusion
1927 N. Central Avenue
Marshfield, WI 54449
Oak Creek Infusion
10050 S. 27th Street
Oak Creek, WI 53154
Michigan
Call us at 888-246-6322 for more information about home infusion therapy in Michigan.
Our current locations in Michigan include:
Warren – Detroit Metro Area
28120 Dequindre Rd.
Warren, MI 48092
Whether you need home infusion treatments for a chronic condition or are recovering from surgery or illness, our skilled nurses are here to help you and your family feel supported at every step. Contact us today to learn more about how home IV therapy can improve your quality of life.
Discover At-Home Infusion Therapy with Ascension at Home Together with Compassus
Home infusion therapy is administered by Ascension at Home Together with Compassus. We coordinate nursing services, therapies, and supplies under the supervision of your doctor. We are committed to delivering the home care you need and the compassion you deserve. When patients receive care in the comfort of their homes, it can help them recuperate from an illness or injury more quickly. To learn more about home infusion therapy or to find an in-home service location near you, visit us online or call us today at 833.380.9583.