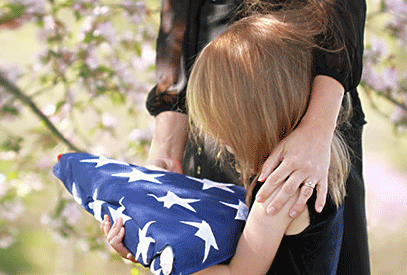 With over 30 years of experience providing compassionate care to those experiencing loss, we are here to help you every step of the way. Our Compassus team is committed to helping you cope with your loss and providing the bereavement support you need during this difficult time.
Whether you are dealing with sadness, anger, or anxiety following a loved one's passing, our skilled professionals can provide the guidance and support you need to move forward. We understand the unique challenges and emotions that caregivers can face, and our team is here to help you navigate this difficult time.
If you are looking for hospice grief counseling or bereavement support, contact us today to learn more about our services and start on your path toward healing.

Every person grieves in their unique way. Because grief and mourning are personal, we listen and adapt our bereavement program to fit your experience and traditions. Each office has a bereavement coordinator who supports family, friends, and loved ones. Compassus also provides support services in the communities we serve.
Support can begin prior to a loved one's passing and extend for up to a year. Even after that time, we're available to help you cope with loss. There is no charge for bereavement services, and the choice is yours.
At Compassus, we know the loss of a significant person in your life is complicated. Our bereavement coordinators are great listeners and caring professionals who are here to support you as you navigate the passing of a loved one. While grief support is a requirement for Medicare hospice providers, all programs are different. Talk with the bereavement coordinator at your local hospice office to learn how Compassus can help support you during this challenging time. 
Attending to Practical Matters After a Loss
Remember, hospice care does not end with the death of a loved one. In select locations, Compassus is partnering with Empathy, an app developer, to help you navigate legal and practical matters after the passing of a family member.
On the Empathy app, you can chat with care specialists who understand what you're going through, find the answers you need, or help you find local professionals. They can even take some tasks off your hands and do them for you.
Whether you need to plan the funeral, close accounts or subscriptions, or deal with legal and financial tasks like the will, probate, and estate—our care team is here to help. A Compassus bereavement counselor will share available support services.
Support from a hospice grief coordinator or chaplain may include the following:
Individual and family hospice grief counseling

Phone contact or mail support

Remembrance gatherings

Specialized support for children and teens

Critical incident stress management and debriefing

Community grief education presentations

Virtual grief support groups via Zoom

Pre-loss counseling, because grief can start before death
Bereavement support services include calls, visits, printed materials, support groups, and individual counseling sessions. You control how and when to receive care.
Anticipatory grief is the sorrow felt before death or another significant loss. The experience is different for everyone. Not everyone feels anticipatory grief, yet for others, it can be more distressing than grief felt after death.
Anticipatory grief is sometimes called silent grief. Tradition impresses on us that sorrow only begins after loss. However, there is no timeline for when grief begins or ends or a right or wrong way to feel or act. Whatever your journey looks like, our hospice team is here for you.
Compassus offers confidential local grief support groups, covering topics including grief, mourning, goal setting, coping skills, reconciliation, resolution, and many more. Grief support groups are a safe place to share your story with others on a similar journey. These local Compassus grief support groups may also be conducted via Zoom.
Grief.com has an online locator to help you find grief support groups nationwide.
Community Bereavement Support
Many of our programs have experts available to speak at your workplace, school, church, club, or other community organizations about grief and coping with losing a loved one. Remembrance gatherings are also an opportunity to honor loved ones who have died.
Resources for Online Grief Support
The caring and experienced professionals at Compassus are here to help if you are looking for hospice grief support.
Contact Compassus for Help with Your Grief
If you are searching for support and care during a difficult time, don't hesitate to reach out to the professionals at Compassus. We offer hospice grief counseling and support groups, so you can find the help and support you need. You can call us at 833.380.9583 to get help finding other resources during this challenging time in your life.