When you choose Ascension at Home Together with Compassus, you and your family can expect personalized care in the familiar surroundings of the home. From home health care to home infusion, our care teams work with you and your doctor to get you back on a path to recovery and better health.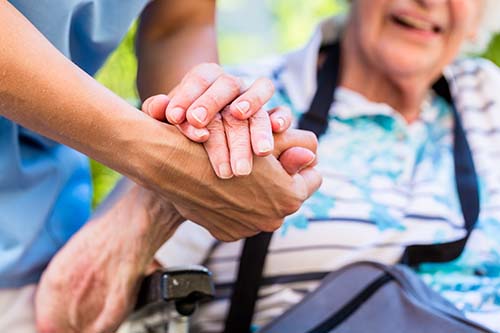 Home health care from Ascension at Home provides high-quality, compassionate in-home health care customized to fit the needs of each patient. From experienced medical professionals to skilled social workers, our team provides personalized support and comfort.
With in-home services ranging from skilled nursing visits, personal care assistance, and prescription access, Ascension at Home supports our patients and their families with respect and dignity, allowing them to stay in the comfort and security of their own homes while living out their best possible life.
Home health skilled nursing services:
Skilled home health care from Ascension at Home is available around the clock and can include home visits, phone support from registered nurses, and regular monitoring of vital signs, all from the comfort of home. Some of our skilled nursing services may include:
Wound care
Post-operative care
Home infusion therapy
Home health aides
Catheter placement and care
Colostomy and ileostomy management
Cardiac and respiratory management
Monitoring vital signs
Pain management
Monitoring of medical equipment and needs evaluation
Laboratory services
Whether you or your loved one is facing surgery, injury, illness, or the challenges of aging, home health care is a valuable resource that can help.
If your home health care needs include physical or occupational therapy, Ascension at Home has you covered. Our home-based therapists can provide in-home rehabilitation services that may help you regain mobility, improve balance and coordination, and reduce pain. Some of our therapy services include:
Balance and mobility
Dietary counseling
Fall prevention
Physical and occupational therapy
Speech therapy
Home medical social workers and senior specialists are available to discuss options, answer questions, and can help manage any emotional challenges that may arise. Home medical social services include:
Short and long-term care planning
Assessment of home situation, safety, financial, and community resources
Patient and family education and support
If you are searching for home health care services following a hospital stay, recuperating from surgery or injury, dealing with the daily challenges of aging, or coping with a severe illness, we are here to help with personalized services and care. Don't wait to contact us to learn more about our home health care.
Specialized care for medical conditions
Our care teams work with you and your doctor on a personalized, coordinated care plan that includes educational information for care at home. The medical conditions we provide specialized care for include:
Balance problems
Chronic obstructive pulmonary disease (COPD)
Congestive heart failure
Dementia
Diabetes
Orthopedic rehabilitation
Pneumonia
Stroke
Our team can help boost confidence and help you face any challenges more easily with quality home medical support and attention.
How is skilled home health care different from home personal care?
You may hear the terms home health care or skilled home health care interchangeably with personal or companion care. It's important to understand the difference. While home personal care services may assist with daily activities such as bathing, dressing, and meal preparation, home health care is more medically focused.
Skilled home health care includes nursing care, physical or occupational therapy, or home medical social work. With experienced home health care professionals from Ascension at Home, you can receive the specialized support you need to manage your medical condition, recover from an injury or surgery, or cope with a severe illness. To better understand skilled home health care, we offer resources such as:
Home infusion can benefit many patients, especially those who are homebound or have difficulty leaving home. This service involves receiving intravenous infusions in your home, often with the support and guidance of a home care nurse. Ascension at Home offers comprehensive home infusion services tailored to each patient's needs and goals.
Our experienced home care nurses work closely with you, your caregivers, and your prescribing doctor to help ensure you safely receive the highest quality care in a comfortable home environment. Whether you need antibiotic therapy for an infection, pain management following surgery, or intravenous nutrition support due to malnutrition or other medical conditions, home infusion can help get you back on the path to health.
If home infusion sounds like the right choice for you, contact Ascension at Home today at [direct] to learn more about how our care services can help.
Why should you choose In-Home Infusion?
In-home infusion is a specialized form of home care that involves delivering medical treatments such as intravenous (IV) infusions, injections, and other therapies directly to patients in their homes. This type of treatment is ideal for individuals who cannot travel to a hospital or clinic due to illness or mobility issues and those who wish to receive treatment in the privacy and comfort of their homes.
We care for patients where they feel most comfortable—in the place they call home. Care at home may cost less for some patients, and some patients say they experience less stress at home.
Opening your home to a caregiver requires trust. Nurses visiting your home complete a thorough onboarding process to help ensure professional care is delivered.
Home infusion at home may help reduce exposure to hospital-acquired infections
Our in-house pharmacy helps with faster access to medications
Call us for help with referrals, insurance coverage, or prior authorizations
Our staff is happy to answer any questions about home infusion. At Ascension at Home, we put patients first, and our home infusion services are just one more way we deliver personalized care.
Why Choose Ascension at Home for Home Infusion Services?
Our team of well-trained and experienced professionals is available to provide comprehensive nursing services, nutrition support, medication, and equipment needs so that you can focus on feeling better. With home infusion services from Ascension at Home, you can get the care you deserve without leaving home—allowing you more control over your well-being while having total peace of mind that we're only a phone call away.
Home infusion services include:
Pre-discharge assessment
Investigation of alternative financial arrangements for therapy
Evaluation of therapy and equipment needs
Neuropathies/chronic inflammatory demyelinating polyradiculoneuropathy (CIDP)
Infectious disease treatment
Transplant care
Blood disorder treatment
Total parenteral nutrition (TPN)
Antiemetic therapy
Antibiotic/antifungal/antiviral therapy
Pain management (subcutaneous, intravenous)
Hydration management/electrolyte replacement
Corticosteroid therapy
Magnesium infusions
Nutritional support
Injectable osteoporosis drugs for women
Accreditation Commission for Healthcare-accredited home infusion, specialty pharmacy, AIS, nursing, sterile compounding, and Pharmacy Compounding Accreditation Board
Nutrition support
Lab monitoring and management
First dosing
Patient education
24/7 clinical support
Peripherally inserted central catheter (PICC) certified registered nurses
State-of-the-art infusion and enteral pumps
Pediatric and adult capabilities
Open drug formulary/access
At Ascension at Home, our mission is to provide compassionate home infusion services that improve the quality of life for patients and families. Whether you need infusion for a chronic condition or are recovering from surgery or illness, our skilled nurses will work with you and your doctor to help ensure the best possible care in the comfort of your home.
Benefits Of Home Infusion
Infusion therapy at home provides more than just convenience—it can be vital for those with medical conditions that need regular hydration, nutrient replenishment, or drug infusion treatments. It allows you to receive your treatments in the comfort of your own home. And it helps you receive the fluids and medications necessary to meet your needs without needing to be hospitalized or travel long distances to receive care.
Whether you need home infusion treatments for a chronic condition or are recovering from surgery or illness, our skilled nurses are here to help you and your family feel supported at every step. Contact us today to learn more about how home infusion therapy can improve your quality of life.