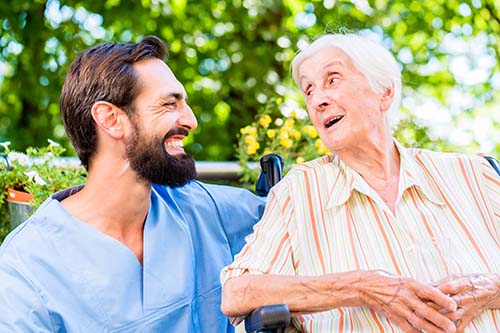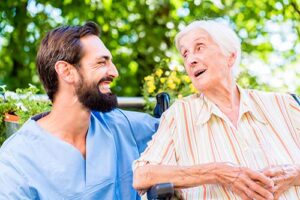 When it comes to wound care at home, it's important to understand the basics of wound care. Effective home wound care begins with understanding the whole person and not just their current wound. Doctors and the health care team must understand underlying medical conditions, diet, age, medications, mobility, family involvement, and other factors to create a plan for healing and well-being. Caring for wounds and skin conditions can be complex. There is much more involved than simply changing bandages. Home health nurses and therapists will be very precise—using specific dressings, medications, and steps outlined in your wound care plan.
If you or a loved one would like more information about home wound care, contact Compassus at 833.380.9583 today. We can assist with at-home wound care and provide education and resources to help you or a patient. We can also provide personalized care plans and a team of professionals dedicated to helping you and your family.
Home health care services offer smooth transitions from inpatient or emergency care to professional wound care at home. Goals for at-home wound care include:
Patient comfort and overall health
Preventing infection
Improving healing time
Preventing wound-related hospitalizations
Education to prevent new wounds
In many ways, the home health team and family members are the doctor's eyes when a patient is at home. Timely communication is good preventive care. Family members can see and report changes. They provide early warnings for pressure injuries, watch for infections and ensure their loved ones are eating right.
Family caregivers are also expected to follow care plans. The home health team guides family members through each step of the process and is available 24/7 for consultations.
Older Adults Need Extra Care
Surgical wounds, cuts, and breaks have a much greater risk of complications in older adults. Diligent care for wounds can prevent serious and life-altering complications.
The home health team provides expert care and education for people and family caregivers. They will help you prevent infections, pressure sores, or falls that lead to injury. Education includes how to manage chronic or underlying health conditions to give people better opportunities to heal.
Conditions needing wound management include:
Surgical wounds
Diabetic foot ulcers
Pressure ulcers or pressure injuries
Venous stasis ulcers
Burns
Complicated skin tear
Neuropathic foot ulcer
Soft tissue radiation injury
Amputations
A home help nurse can help with all of these conditions and provide care for older adults.
How a Home Health Nurse Helps
When it comes to in-home wound care, a registered nurse (RN) is the key to successful healing. An RN has a deep understanding of clinical and nursing care practices, education, and treatments for wounds. They will manage the care, coordinate services, and oversee all aspects of wound healing. An RN can help with the following:
Ensuring people are properly caring for a wound and taking their prescriptions
Asking about pain and any other concerns
Encouraging a diet to promote healing
Checking on your safety
Teaching patients and their families about overall wellness
Coordinating care to stay ahead of potential problems
Compassus is here to help with home wound care. Our staff of registered nurses, physical therapists, and other medical professionals are available 24/7 to answer any questions and are dedicated to helping you get the care you need.
The Cost of At-Home Wound Care
Most home healthcare services are covered by insurance. When prescribed by a doctor, skilled home health visits are typically covered by Medicare, veterans benefits, and some private insurance policies. Medicare also pays up to 20 percent of the cost of durable home medical equipment prescribed in a care plan. Medicare does not pay for 24-hour in-home care.
Compassus Can Help Your Family
Our goal is to build trusting relationships with families. We can help you learn about insurance benefits, services, and referrals. When we work together, people have their best opportunity to thrive and maintain independence. Contact us at
833.380.9583
to learn more about home wound care and how we can help you and your family. We look forward to helping you.