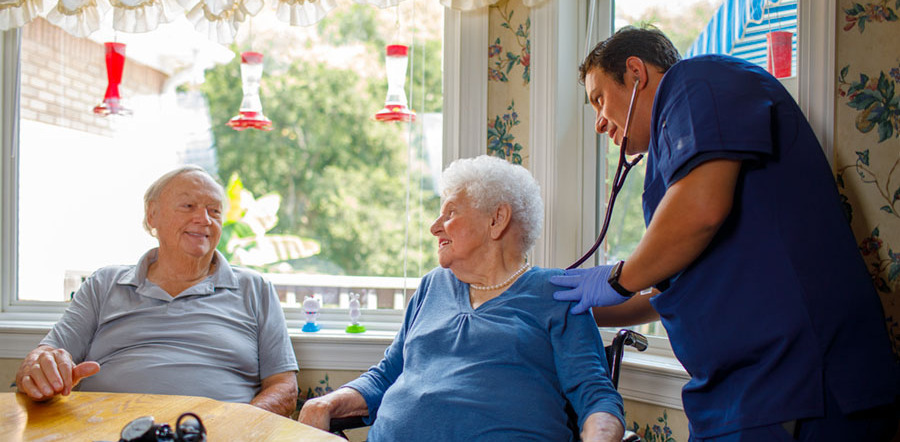 HOSPICE IS A MEDICARE BENEFIT YOU HAVE EARNED
Benefits include a comprehensive care team consisting of nurses, aides, other caregivers, medicines, supplies and equipment, with no out-of-pocket expenses for the hospice diagnosis. Chaplains, volunteers and bereavement specialists are also part of the team helping you and your family receive the emotional and spiritual care you need.
CARE IS CUSTOMIZED TO YOUR NEEDS AND MAY INCLUDE
Visits from our licensed hospice team
Home medical equipment, medication and personal care supplies
Care coordinated with your doctor
Hospice aides to help with the tasks of daily living
Physical, dietary and other therapy services
We Honor Veterans program
Respite care (relief) for family caregivers
Ongoing grief support
24/7 Year-round support
Choosing hospice care is an emotional decision. We are here to help. Call 833-985-1935 today to learn more about our comprehensive hospice end-of-life care services in Illinois.
Hospice care is not about giving up, it's about letting others step in to help you live each day to the fullest. We work with patients and their families on a personalized care plan to help support quality of life and make the most of each moment together.
Dekalb Hospice

3301 Resource Parkway, Suite 5, Dekalb, IL
Counties: Bureau, Grundy, Kendall, LaSalle, Livingston, Marshall, Putnam, DeKalb

Galesburg Hospice

799 North Henderson Street, Galesburg, IL
Counties: Fulton, Hancock, Henderson, Henry, Knox, McDonough, Mercer, Rock Island, Stark, Warren

 Moline Hospice

4101 John Deere Drive, Suite 1, Moline, IL
Counties: Henry, Mercer, Rock Island, Whiteside

Peoria Hospice

7210 North Villa Lake Drive, Suite B, Peoria, IL
Counties: Fulton, Marshall, Mason, Peoria, Stark, Tazewell, Woodford