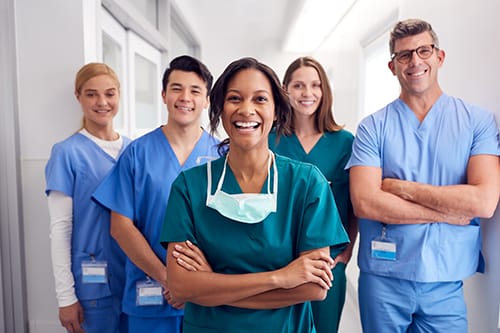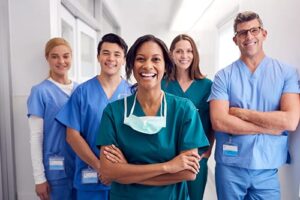 Hospice is a team effort. Compassus works with the patient, their loved ones, and their doctor to offer a personal hospice plan that meets the goals and wishes for the patient and their family.
Our experience teaches us that listening is the best way to meet a patients' medical, emotional, and spiritual needs. It's how we provide the proper care with the right people at the appropriate time. Call 833.380.9583 to speak with someone from Compassus about our hospice care team. 
Members of a Hospice Care Team
A Compassus hospice care team typically consists of the following:
You and your family

Your doctor

Hospice medical director

Nurses

Bereavement coordinator

Volunteer coordinator
The first step in quality hospice care is listening to the patient, the patient's doctor, and other healthcare providers. The patient's goals guide our care.
Medical Director and Physicians
The hospice medical director has overall medical responsibility for the patient's hospice care. They work hand-in-hand with the patient's doctor and other medical professionals to develop a plan of care that meets the patient's goals and priorities. The medical director oversees the protocol for pain and symptom management.
Members of our nursing team are important patient advocates and the most accessible care team members. A charge nurse is responsible for the patient's overall care and needs. Nurses visit the patient as often as necessary and make arrangements for medication and equipment. They also provide support and valuable information to family members on how to care for their loved one.
Nurse Assistants and Hospice Aides
Nurse assistants and hospice aides assist with daily personal care, bathing, and grooming. With regular visits, they also become a source of comfort, emotional support, and companionship for patients and their families. 
Our social worker team supports non-medical concerns, such as legal and financial issues, access to community resources, and future planning. They also address social and psychological needs by providing comfort and support to patients and family members dealing with stressful issues related to a life-limiting illness.
Our nondenominational chaplains offer spiritual support directly or in collaboration with the patient's and family's clergy or spiritual counselor. Our chaplains honor the diversity in religious beliefs and backgrounds of our patients.
Our team offers bereavement support to address the phases of grief and acceptance. Support is provided to families for at least one year after the patient has died. Compassus also helps with funeral arrangements and can help guide family members through other issues necessary to address after death.
Volunteer Coordinator and Volunteers
Volunteers offer the gift of time to patients and family caregivers. Sometimes that gift is the simple act of listening to a patient's life story, reading from a favorite book, or running errands for family members.
Learn More About the Hospice Care Team at Compassus
Fill out our online form or contact Compassus today at 833.380.9583 to speak to someone from our staff about our hospice care team and how we can help your family.