Patients and families often tell us that hospice volunteers are a treasure. Even if you work behind the scenes, you'll be helping others at a time of great need.
Volunteers provide companionship to the patient and respite for the caregiver. Ways to help include:
Friendly visits
Reading to patients
Light housekeeping
Running errands
Writing letters
Meal preparation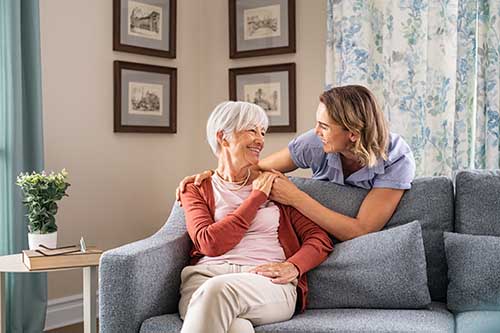 Bereavement volunteers are an invaluable resource for those who have lost loved ones, especially for family members without a solid support network. Bereavement volunteers might:
Visit with the bereaved in person or by phone
Assist with grief support groups
Coordinate community resources
Help bereavement coordinators with mailings and calls
Administrative volunteers assist hospice staff, typically in the office. Ways to help include:
Copying, faxing, filing, and other light office work
Sending birthday cards, sympathy cards, or thinking of you cards
Making deliveries
Veteran-to-Veteran Volunteers
Compassus is proud to participate in the We Honor Veterans program. Many of our locations provide trained veteran volunteers who offer camaraderie and compassionate care for fellow veterans. Our veteran-to-veteran volunteers understand the unique needs of veterans because they ARE veterans.
11th Hour/Vigil Volunteers
Some local programs have 11th Hour/Vigil Volunteers. These are trained, non-medical volunteers who offer emotional support to patients and caregivers in the last hours of life. 11th Hour/Vigil volunteers are a compassionate presence during the last hours of life for hospice patients either in private homes or in facilities.
Supplementary Volunteer Services
We welcome other specialized volunteers to provide services to our patients, such as:
Reiki practitioners
Massage therapists
Pet therapy teams
Art therapists
Music therapists
Hair stylists
For all of these supplementary volunteer services, the volunteers must be certified or licensed.
Getting Started with Our Hospice Volunteer Opportunities
Many of our locations nationwide are actively seeking volunteers. After completing training, volunteers decide on the amount of time they give. Whether you give a few hours a month or several hours a week, all efforts are appreciated and needed.
Complete a volunteer application here.