Medicare certified Comfort Care
We recognize that every life is to be cherished. That's why our care focuses on the person, rather than the disease.
Our responsive care ensures you have the support you need, especially when facing urgent medical concerns. We work with you and your doctor to provide practical, emotional and spiritual care for everyone affected by a serious illness.
Call us 24/7 with questions about hospice or palliative care. Our goal is to help you make well-informed hospice decisions.
Most families receive care in their homes. If that is not possible, we offer care in nursing facilities, hospitals or other settings.
Opening your home to a caregiver requires trust. Our nurses, therapists, social workers and aides complete a thorough onboarding process to ensure professional care.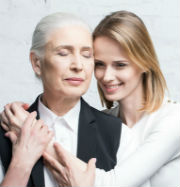 Palliative Care
Palliative care is an extra layer of relief from the symptoms and stress of a serious illness. It coordinates care to respond to your physical, emotional, and spiritual needs. Care includes support for family members, especially family caregivers. 
Palliative care does not signal you are giving up hope for recovery. You may continue receiving curative and/or life-prolonging treatments and move in and out of care as needed.