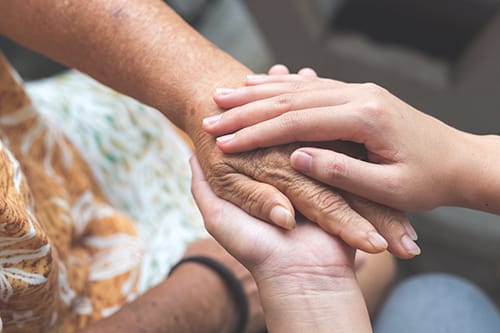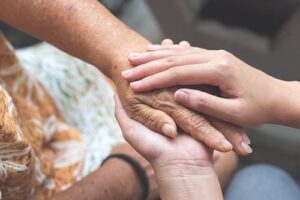 When the time comes for hospice care, families want the best for their loved ones. An essential early step to finding quality care is having conversations about pressing needs. However, since all Medicare-approved hospices offer the same basic services, how do you find the best care for your family?
As you weigh your options, consider hospice care at Compassus. We believe everyone has the right to live with comfort and dignity, no matter their circumstances. Here are some of the benefits of hospice care at Compassus. 
All Compassus locations have been independently accredited by Community Health Accreditation Partner (CHAP). CHAP provides guidelines and conducts unscheduled, in-person visits to ensure we meet the industry's highest quality standards.
What Is CHAP Accreditation?
Community Health Accreditation Partner (CHAP) is an accrediting organization for home and community-based health care. CHAP has been granted authority by the Centers for Medicare and Medicaid Services (CMS) to determine whether providers meet CMS quality standards and the Medicare Conditions of Participation. 
"CHAP accreditation is a testament to our commitment to quality and operational excellence. Evaluation by a third-party accrediting agency ensures we fully comply with Medicare certification."

– Jen Hale, Vice President of Clinical Quality and Standards for Compassus
Fully licensed medical professionals provide hospice care at Compassus. Our team includes medical directors, registered nurses, social workers, chaplains, and home health aides. We carefully select and train our staff to adhere to the highest standards in health care.
Hospice care is about more than checking services off a list. At Compassus, we use a quality outcomes nursing model, wherein a director provides real-time feedback to our nurses. We'll ask how well we've addressed client needs and continuously adapt to better meet them.
Additional advantages of our nursing model include the following:
A person-centered approach – We focus on improving quality of life through our person-centered approach to meet each individual's physical, emotional, and spiritual needs. 

Comprehensive services – Hospice care at Compassus includes a broad range of services, including pain management, respite care, and bereavement support.
Our highly trained professionals and innovative clinical model make hospice care at Compassus the trusted choice. 
We Address Pressing Needs
One of the primary benefits of hospice care at Compassus is our listening ability. Our staff understands and addresses clients' most pressing needs moment-by-moment. We also know needs change over time and can adjust our spectrum of care to meet new medical and personal requirements.
Compassus is committed to providing high-quality care and advocates for those facing end-of-life. We listen to concerns and help families make decisions that promote comfort and peace of mind. 
We Honor Veterans helps us provide optimal hospice care for people who have served in the United States Armed Forces. Through this program, we tailor our care to address the unique physical, emotional, social, and spiritual needs of patients with military experience. 
What Is the We Honor Veterans Program?
We Honor Veterans is a partnership between the Department of Veterans Affairs (VA) and the National Hospice and Palliative Care Organization (NHPCO). Trained volunteers, usually also veterans, work hard to personalize hospice care for those who have served in the military. The We Honor Veterans program includes the following services:
Conversations to address the unique needs of veterans

Accessing documents, recognitions, and honors from the VA

Setting up pinning ceremonies, honor flights, and burial benefits to thank veterans for their service
We Honor Veterans provides us with the knowledge and tools to ensure veterans feel honored and appreciated while receiving the proper care at the end of life.
Get Better Hospice Care at Compassus
For the highest quality hospice care, look no further than Compassus. We offer a full spectrum of care to meet patients' physical, emotional, and spiritual needs. With hospice care at Compassus, our team of experts works with patients and families to provide the best care available.
Compassus is a leader in quality hospice care to promote comfort and quality of life. Together, we'll ensure patients live each moment with dignity and grace. Contact us today at 833.380.9583 to learn more about our hospice services and how we can help.