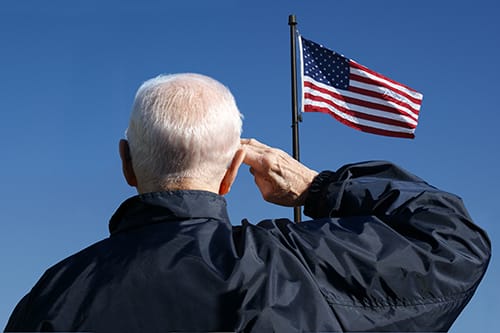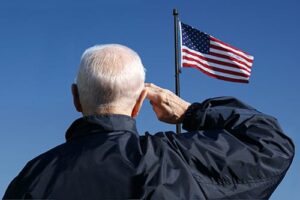 Veterans have life experiences that require a more personal approach to end-of-life care. At Compassus, many of the We Honor Veterans program volunteers are veterans and understand the unique needs of those who have served in the military. We provide veterans with the highest quality care near the end of life in a compassionate, appreciative setting.
Our team offers hospice care tailored to veterans' needs, from understanding and honoring their military service to helping them access benefits they may be entitled to receive. We also offer support and assistance to family members, helping them navigate the details of end-of-life care.  
What Is the We Honor Veterans Program?
We Honor Veterans is a partnership between the National Hospice and Palliative Care Organization (NHPCO) and the Department of Veterans Affairs (VA). Hospices, state hospice organizations, hospice-veteran partnerships, and VA facilities are welcome to join this pioneering program. The goal is to provide hospice care for veterans based on a foundation of compassionate listening, respectful inquiry, and grateful acknowledgment of military service.
The program teaches hospice volunteers how to handle veteran-specific physical and emotional issues that may arise near the end of life. We Honor Veterans actively recruits volunteers who can connect more deeply with patients through shared experiences. They'll learn the life stories of veterans, using that information to promote a peaceful ending. 
What Does the We Honor Veterans Program Include?
Volunteers work hard to understand veterans' military service and personalize their care. They'll determine whether a patient is eligible for benefits, such as Medicare and VA-paid hospice care. Additional services provided as part of the We Honor Veterans program may include the following:
Conversations with doctors and family members to address a veteran's unique needs

Working with the VA to access documents, recognitions, and honors

Thanking veterans for their service through pinning ceremonies, honor flights, and burial benefits
End-of-life care for veterans can help them feel honored and appreciated for their service. Hospice staff may promote the comfort and quality of life for those who have served in the military as they move through the last days of their lives.
Benefits of Hospice Care for Veterans
The We Honor Veterans program may be incredibly impactful for veterans, especially those who have never been thanked for their service or welcomed home. Hospices partnered with We Honor Veterans provide compassionate, individualized care to engage, honor, and recognize veterans. Staff and volunteers may:
Give veterans opportunities to tell their stories

Respect their feelings and suggestions

Thank them for their service

Be supportive, non-judgmental, and validate concerns

Show appreciation for the families of veterans
In addition to meeting their physical and mental health needs, We Honor Veterans can make those who have served in the military feel seen and heard. Those who have served in the military may enjoy enhanced well-being and quality of life as they move into their final days.
Find Out More About the We Honor Veterans Program at Compassus
At Compassus, we partner with the We Honor Veterans program to honor and care for those who have served in the military. We also offer support and resources for family members as they face the difficult journey of saying goodbye. Our compassionate staff is here to answer your questions and guide you through the process of getting the best care for your loved one. 
Call 833.380.9583 or reach out to our team online to get started.