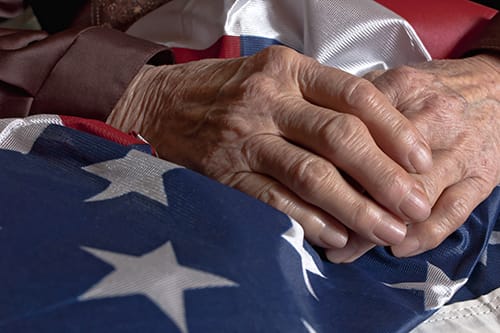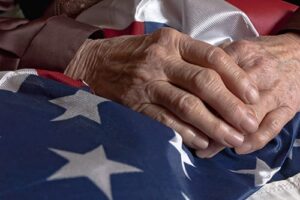 Hospice care is part of the Veterans Health Administration VA benefits package. As a veteran, you are eligible for care if you are enrolled in benefits and meet the medical need for hospice. Hospice care for veterans is an integral part of veteran palliative care.
Hospice-related expenses for enrolled veterans are covered at 100 percent. Compassus receives payment in full from Medicare, Medicaid, Tricare, or the Veterans Administration. 
We also provide charity hospice care to our uninsured veterans. Contact us today at 833.380.9583 to learn more about hospice care for veterans and how we support all of our patients.  
Hospice Care for Veterans Benefits
For more about VA hospice care, enrollment information is found on the Veterans Affairs website, or call a hospice care coordinator at a Compassus location near you.
Some hospice care for veterans included in veteran benefits at Compassus consists of the following:
Care is available at your home, nursing home, assisted living, or wherever you call home

No co-pay for hospice care

Home medical equipment, medication, and personal care supplies

Pain and symptoms managed to your goals

Care coordinated with your doctors

Physical, occupational, and other therapy services

Volunteers with military experience (when available)

Spiritual care for veterans and their family members

Ongoing grief counseling for patients and family
We're here to help you care for your veteran during end-of-life care.
Veterans Hospice Care at Compassus
Multiple veterans' programs are available both through non-profit organizations and the federal government. Some of them are listed below. 
On June 6, 2019, military veterans gained access to more community healthcare options thanks to the VA MISSION Act. Veterans who must drive 30 minutes or more to a VA care provider or 60 minutes for specialty care now have the option to choose a community provider closer to home.
Veterans living in communities served by Compassus may have new opportunities to access comfort care services or palliative care. 
We Honor Veterans Program
We partner with We Honor Veterans to improve our care for veterans. The program offers resources and training to align our care with our veteran patients' unique physical, emotional, social, and spiritual needs.
What Is the We Honor Veterans Program?
If you served in active duty in the uniformed services and separated under any condition other than dishonorable, you likely qualify for VA health care benefits. Current and former Reserve or National Guard members who were called to active duty by a federal order and completed the entire period for which they were ordered may also be eligible for VA health benefits.
Visit the U.S. Department of Veterans Affairs' Geriatrics and Long-Term Care page for hospice and palliative care application forms. You may also contact a care coordinator at a Compassus location near you to learn about local end-of-life benefits and your options. 
Benefits of the veterans' program include:
Streamlined referral and admission process

Familiarity with the VA system and help with identifying and accessing benefits

Coordination of care with the local VA medical center, including joint visits

VA caregiver support

Specialized emotional support 
Veterans Hospice Care Paperwork
We can help you navigate the paperwork to receive these benefits. Contact us today to learn more:
Military discharge papers, DD-214, or Report of Separation

Replacing lost medals

VA pensions, including Aid and Attendance

Compensation benefits for diseases or disabilities acquired while serving

Burial benefits for vets and death pensions

Survivors' benefits for spouses and dependents
Veterans have unique needs that we are happy to navigate with you. 
Unique Challenges of Veterans Hospice Care
Military service may leave some veterans with physical or emotional wounds. Potential problems from service in combat are well known. What may be less visible are difficulties from exposure to chemical or biological hazards, extreme weather, diseases, or emotional trauma. These wounds can be present even for veterans in non-combat roles.
Military service values perseverance, even in the face of difficulty or pain. Some veterans may suppress problems until the end of life. We fully support our veterans to help them find peace and make the most of their time with family and friends.
Hospice Care for Veterans at Compassus
Compassus is here to serve veterans during their end-of-life care. Contact us at 833.380.9583 to learn more about how we can help.