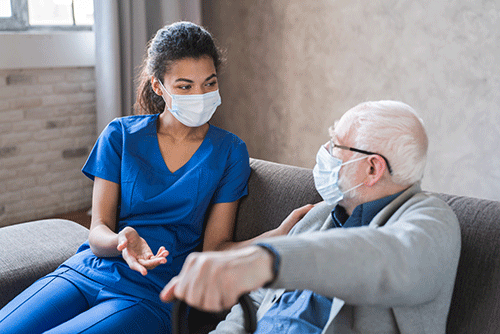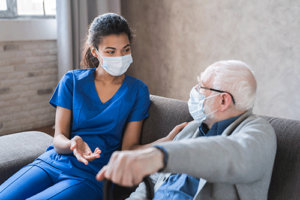 The health and safety of those we care for and work with are our highest priorities. Compassus is closely monitoring the spread of the coronavirus and related developments while following guidance provided by the Centers for Disease Control and Prevention as well as state and local health authorities. We're taking extensive precautions to protect the safety of our patients, families, and colleagues so patients can continue to receive safe, appropriate care. Our hospice response to COVID-19 is guided by our commitment to providing care with excellence and compassion.
It is an honor to serve our patients and families with our core values of compassion, integrity, and excellence. We are united as colleagues in our commitment to keeping the hospice promise: advancing the well-being and honoring the dignity of those we serve at this difficult time because we know that it's at times like these that our patients and communities need us most.
Reach out to the Compassus team at 833.380.9583 or find a location near you today to learn more about your hospice care options. Whether you're looking for answers to common questions about COVID-19 and hospice care or are seeking more personalized guidance, we are here for you and your family.
How We're Helping Families Stay Connected
There are a number of apps that can be used either with a smartphone or a computer that can help you stay connected with your hospice patient. Our care teams are working hard to help families take advantage of technology to stay in touch, including using Facetime, Skype, Zoom, and other video conferencing platforms.
We've put together a brief guide to virtual visitation during COVID-19 that covers the apps available to stay connected with your hospice patient. If you have questions, your care team can help.
COVID-19 Actions We're Taking to Protect Patients and Families
We're taking many precautions in order to ensure that home health and hospice patients and families can stay safe during this time. Our hospice response to COVID-19 includes:
Following strict screening protocols

Using appropriate protective personal equipment

Checking the temperatures of our staff before each home visit

Washing hands thoroughly as specified by the CDC

Maintaining social distancing whenever possible

Keeping staff members home who are showing any symptoms of COVID-19

Holding virtual meetings and using telemonitoring services whenever possible
While keeping patients comfortable is always a top priority, during the COVID-19 pandemic, we're taking actions to ensure patients receive proper nutrition, hydration, and exercise, avoid bed sores, maintain proper circulation, and practice proper hygiene as appropriate in order to reduce the risk of infection.
Home health not only allows us to meet the needs of patients in a comfortable environment surrounded by loved ones, but it also opens up valuable hospital beds for those who need them most during times of uncertainty. We're dedicated to helping hospice and home health patients receive the care they need while protecting them from potential infection.
Contact Compassus Today to Learn More About Our Response to COVID-19
We understand the uncertainty and worry related to COVID-19. We are here for you and your family during this unprecedented time. By ensuring that patients and their families stay safe, connected, and healthy, practicing mitigation protocols, and providing hospice services with compassion, we are doing our part to fight this virus.
If you have any questions or concerns about our actions related to COVID-19 or hospice care in general, please don't hesitate to reach out. We are here for you and your family. Contact the Compassus team at 833.380.9583 or find a care team near you by viewing our locations across the country.