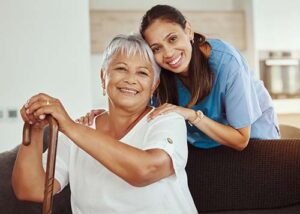 Every stroke is different, and everyone's experience with the disease differs. If a family member is seriously ill after a stroke, you don't have to face the challenges of care alone. Palliative care, or hospice for some people, provides an experienced team who will listen to your needs and offer personalized support.
At Compassus, hospice and palliative care for stroke patients focus on the patient's quality of life. We understand that you may feel overwhelmed by all the new emotions and changes brought about by a stroke, so we'll be there to offer support and advice. To reach out to our team with any of your questions or concerns about palliative or hospice care at Compassus, call us at 833.380.9583.
Understanding Care Options After a Stroke
After my mom's stroke, I needed to understand what our future might look like. The palliative care social worker helped us find enough assistance to handle my mom's symptoms at home, and she later helped us shift to hospice. We had an important month together as a family before mom passed.
Contact your doctor for a palliative or hospice care referral. Providers work with you and your doctor to align care options with your goals and values. While every family has unique needs, support can include:
Managing symptoms including paralysis, balance, pain, difficulties with speech, swallowing, bowel control, and agitation or anxiety
Physical therapy, occupational therapy, and dietary counseling
Home medical equipment and supplies, such as a hospital bed, wheelchair, and incontinence pads
Practical, emotional, and spiritual support
Family caregiver education, training, and respite care
Help with transitions and advance care planning
Hospice or palliative care for stroke have many similarities. Hospice is end-of-life for people with a life expectancy of six months or less. Palliative care is for people at any stage of illness and can be provided with curative treatments for stroke.
Benefits of Hospice Care for Stroke Patients
Stroke patients and their families can benefit greatly from hospice care and support that helps manage pain and reduce stress around end-of-life issues. With hospice care, professionals are skilled in providing compassionate care while respecting the patient's values. The multidisciplinary team will work with the patient and their family to ensure that everyone's needs are met. Services can include:
Pain management
Respite care
Counseling and spiritual support
Care coordination with other healthcare providers
Nutritional assistance
Assistance with activities of daily living
Through these services, hospice can provide invaluable assistance that allows stroke survivors to live out their last days safely and comfortably.
How Can Palliative Care for Stroke Patients Help Family Members?
For family members of stroke patients, navigating the emotional and practical implications can be difficult. Fortunately, palliative care for stroke patients can provide a supportive structure for all involved. Palliative care services provide families with guidance about medical treatments and help them find comfort as they deal with serious health issues. They also focus on symptom control to improve quality of life and maximize possible access to treatment.
In addition, palliative care offers social workers and counselors that can assist families in managing and expressing their emotions while providing psychological support during this challenging time. Families receiving assistance from support services like palliative care are better equipped to face the everyday realities of a loved one's illness.
Receiving Comfort Care After Stroke
Medicare, the Veterans Affairs (VA), Medicaid, and most private insurance plans cover hospice care. If someone is not eligible for hospice, palliative care consultations are typically covered 100% by Medicare and private insurance. If families have concerns about expenses not covered by insurance, social workers can help with financial planning and financial assistance.
The first step in receiving care is a referral from a doctor. If a patient meets the criteria for stroke care, they and their family receive support from registered nurses, home aides, social workers, chaplains, and volunteers. The comfort care team offers care in your home, a nursing facility, or a hospital. Signals that a person may need palliative care or hospice care include:
Mainly bed-bound or chair bound
Requires almost constant help with self-care
Weight loss during the previous six months due to difficulty eating or drinking sufficiently
Health complications, including recurrent infections
Palliative performance scale or Karnofsky score of 40% or less
For more information, contact a hospice provider to discuss hospice care for stroke.
Learn More About Stroke Care with Compassus
Our devoted team of specialists offers individualized, sympathetic care to stroke survivors and their loved ones. Together, we create a plan that helps everyone cope with the challenges of living with a stroke. We strive to empower families with knowledge and resources to make informed decisions about hospice and palliative care for stroke. Call us at 833.380.9583 to learn more about hospice and palliative care for stroke patients and how we can help your family.