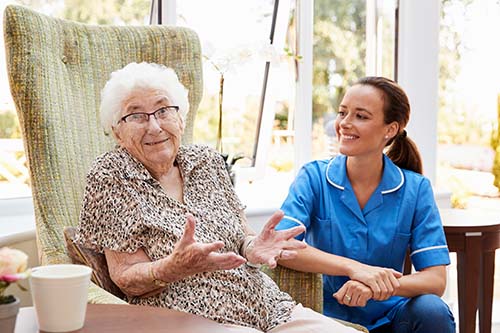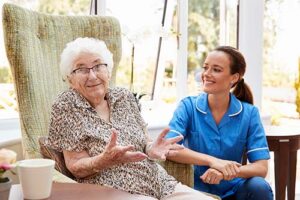 Unpredictable, variable, and highly individual are some of the words people use to describe multiple sclerosis (MS). One size does not fit all in hospice care for advanced MS. It is important to find a provider who understands the unique and highly personal needs of people with MS and the needs of family members.
The complexities of end-stage MS make it difficult to know with certainty when end-of-life care is appropriate. Medical advances enable many with MS to manage symptoms, but there may be a time when patients have extreme difficulty swallowing, breathing, or recovering from infections.
Doctors use experienced clinical judgment and tools such as the Karnofsky performance status scale (KPS) to measure disability. Consultations are typically free and without obligation, if you or your doctor consider transitioning to hospice or palliative care.
At Compassus, hospice and palliative care teams specialize in end-stage MS. All hospice team members receive extensive training on hospice and palliative care for MS patients. This training includes hospice care's psychological, social, and spiritual aspects. Contact us at 833.380.9583 for more information on how hospice care for MS can help you or a loved one.
Hospice Care for End-Stage Multiple Sclerosis
Conversations about hospice care may bring a flood of questions and emotions. Is it really time for hospice? How do we start the conversation?
The foundation of hospice care is built on understanding the patient's most critical needs and goals. Care begins with an intensive focus on managing pain and other symptoms. Patients and their families also receive practical and emotional support to reach their best possible quality of life.
Hospice is available to patients with a life expectancy of six months or less, as determined by your doctor and a hospice medical director. Once someone begins hospice, they can stop hospice services anytime and return to curative treatments. Hospice is available at home and in many nursing facilities and hospitals.
Significant hospice benefits include:
Managing pain
Hospice aides for personal care and light homemaking
Hospice registered nurses (RNs) help reduce infections, pressure ulcers, and other symptoms
Home medical equipment
Medications to help manage anxiety and depression
Dietary counseling and feeding support
Breathing support and equipment
Respite care for short-term relief for family caregivers
Assistance with financial and legal affairs to ensure a patient's wishes are respected
Our hospice teams work closely with your doctors and caregivers to help patients live with dignity, comfort, and peace.
End-Stage Multiple Sclerosis Palliative Care
Palliative care helps people with MS feel better—physically, emotionally, and spiritually. Care includes support and education for caregivers and families. Patients and families can access palliative care anytime during an illness. It's especially helpful when someone needs extra aid dealing with complex symptoms or planning for future care. Referrals can be made by a primary care doctor, neurologist, nurse, or family member.
Hospice is covered by Medicare, Veterans Affairs (VA) benefits, Medicaid, and most private insurance policies. These benefits offer patients the opportunity for a dignified end of life without an overwhelming financial burden. Medicare benefits cover all services related to terminal illness. There are no co-pays or out-of-pocket expenses.
It's important to ask potential hospice or palliative care providers if they have experience with multiple sclerosis. End-of-life care for MS requires teamwork between you, your doctors, and the hospice or palliative team. Be bold about asking the team to adapt the care plan to your changing needs. The best hospice providers will address your most pressing concerns and help you with long-term care plans.
Talking about end-of-life care for MS is rarely easy. Some people delay hospice conversations because they're hoping for one more remission. Hospice does not mean you're giving up. It's about making the final stages of life meaningful, pain-free, and dignified.
Why Choose Hospice Care for End-Stage of MS?
Ultimately, choosing hospice care for the end-stage of multiple sclerosis is a personal decision based on individual needs. There are several benefits to hospice care when approaching this final stage. With a focus on comfort and quality of life, hospice offers physical and emotional support at home or in a facility. Additionally, families are given psychological aid from medical staff to help cope with the realities of their loved ones' situation.
Hospice caregivers emphasize both pain management and symptom control to provide a sense of peace and comfort. This can give patients more time with their families and increase their quality of life in these final days.
Contact Compassus for Hospice Care for MS
At Compassus, hospice care for end-stage multiple sclerosis is designed to meet each patient's unique needs. Our experienced hospice teams support the patient and their family, helping to ensure a pain-free and dignified end of life. We strive to help create meaningful moments of joy, comfort, and peace during this difficult time. If you or a loved one have been diagnosed with MS and are considering hospice care at home or in a hospice facility, contact us at 833.380.9583 to learn more about hospice care for end-stage multiple sclerosis.