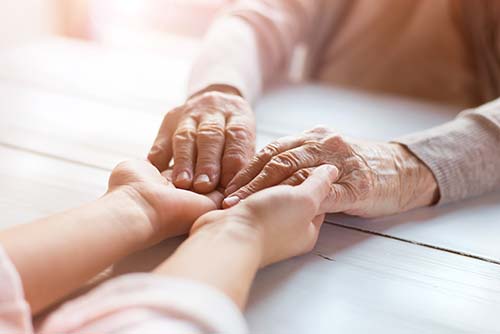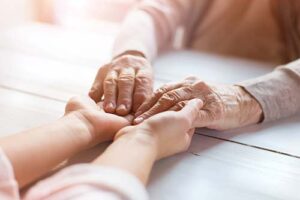 The diagnosis of late-stage congestive heart failure carries a high symptom burden. Patients suffer from shortness of breath, pain, insomnia, fatigue, and nausea, to name a few. Therefore, hospice care for end-stage heart failure can also make life easier for patients and their families. Compassus can help with providing hospice care for end-stage heart failure. Reach out to us today at 833.380.9583 to learn more about how we can help your loved one and family during this challenging time.
Understanding Hospice Care for End-Stage Heart Failure
The diagnosis of late-stage congestive heart failure carries a high symptom burden. Patients suffer from shortness of breath, pain, insomnia, fatigue, and nausea, to name a few. Treatment options depend on a variety of factors, including the severity and progression of symptoms. Medications to reduce the workload of the heart and improve blood flow can be prescribed, as well as treatments for other complications like fluid retention or arrhythmias.
In addition to medical treatments, psychosocial support is vital for those with late-stage congestive heart failure. Education on the disease and symptom management can help patients feel more empowered in their care. Support groups offer an opportunity to share experiences with others in similar circumstances. At the same time, counseling services provide a safe space to work through the physical and emotional challenges of living with a chronic condition.
Other therapies may also be recommended, such as lifestyle changes, dietary modifications, and exercise. By working closely with a patient's healthcare team to implement treatment, improving the quality of life for those living with late-stage congestive heart failure is possible.
What We Do for CHF End-Stage
Compassus is an expert in managing symptoms of congestive heart failure (CHF) to allow for better daily living. Hospice provides education about what to expect, so patients and families know how to respond as symptoms arise. We focus on each person as an individual and manage their symptoms accordingly.
Recently, we had a patient with severe congestive heart failure and valvular disease. He had a cough that did not respond to any treatments he and his cardiologist had tried. He was unable to rest at night and was frustrated by the cough during the day.
We listened to his problem and were able to offer a unique treatment that resolved his cough in days. He went on to live without the bothersome cough and no side effects from our medications. A careful review of each person and their needs as an individual is what is needed to keep patients comfortable when they have a serious illness.
End-stage congestive heart failure can be a roller coaster of good days and bad days. Many people are living longer with congestive heart failure. Furthermore, new therapies can often slow the disease's progression.
At Compassus, we support your efforts to continue medical therapies. If you've exhausted your options and have started the hospice conversation, we're here to help you maintain your best quality of life all the way to the very end.
How End-Stage Heart Failure Palliative Care Can Help
Coordinating care with you and your doctor
Continuation of treatments to reduce symptoms, including shortness of breath, pain, fatigue, fluid retention, and hypertension
Reducing ER visits and hospital readmissions
Medicines, oxygen, and medical equipment related to the life-limiting illness
Emotional and spiritual support
Education and respite care for family caregivers
A hospice care team in tune with your physical and spiritual needs
End-of-Life Care for Congestive Heart Failure at Compassus
Hospice is not about giving up. Instead, it's about managing symptoms and stresses so families can embrace every moment they have together. Hospice is a fully covered Medicare/Medicaid benefit. Hospice care for end-stage heart failure includes caregivers, medications, supplies, and equipment related to the hospice diagnosis, with no out-of-pocket expenses.
Get the help you need at this most challenging time. Call us at 833.380.9583 or contact one of our locations for referrals, information, or simply to talk about options. We are here to assist you.