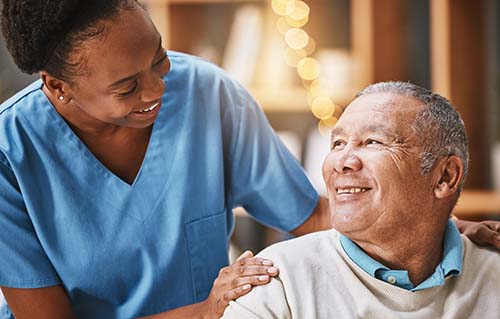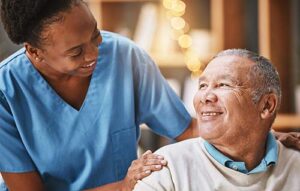 It's the unknowns about amyotrophic lateral sclerosis (ALS) that can make the disease so challenging. People with the disease experience different rates of decline, and families have different values concerning end-of-life care. That's why it's important to find a hospice provider who listens to and understands your unique needs concerning end-of-life care for ALS.
Discontinuing medical support for ALS (formerly known as Lou Gehrig's Disease) is a profound decision. Early and honest conversations about hospice offer clarity, reduce fear, and ensure care reflects what matters most to patients and their families.
Specialized Hospice End-of-Life Care for ALS
Breathing issues often lead to physical and emotional stress for people with ALS. A time may come when you are weighing the benefits and drawbacks of mechanical ventilation, including tracheostomy. We're here to help with whatever choice you make. Our personalized care for breathing issues includes:
Medicines to help with breathing distress
Regular visits from a hospice nurse to anticipate needs and intervene before a breathing crisis occurs
Strategies to optimize current lung function
Advance care planning to document what medical actions should be taken or withheld when a patient is no longer able to communicate
Swallowing difficulties also increase with late-stage ALS. When eating and drinking become impossible, a patient or a family member may choose feeding tubes or intravenous (IV) solutions to prevent weight loss. Feeding tubes have benefits and burdens for those in the end stages of ALS. How we help:
Support from a dietitian
Visits from nurses and aides to help with feeding and education
Full support should patients decide the risks outweigh the benefits
People with ALS typically retain their mental capacity until late-stage ALS sets in. Because they are aware of an increasing loss of function, patients can become frustrated and depressed. We offer the following benefits to support you in the best possible quality of life:
Occupational, speech, and physical therapy services
Pain management and infection control
Medicines to help manage anxiety
Medical equipment, including specialized chairs and beds
Hospice social workers to navigate the medical system and gain access to benefits
Hospice chaplain
If you need help deciding on care for your loved one, reach out to Compassus, and we can assist with finding appropriate end-of-life care for ALS.
When Is Hospice Appropriate for ALS?
Choosing hospice care includes two important parts: medical eligibility and your choice. Hospice is available to patients with a life expectancy of six months or less, as determined by your doctor and a hospice medical director. Doctors consider ALS eligibility criteria, medical history, and clinical judgment.
A survey in the journal Neurology asked ALS caregivers to share their hospice experience. Patients using hospice care were significantly more likely to stay in their preferred location, die outside the hospital and get appropriate pain management. Most caregivers said their loved one was at peace at the time of death.
Ultimately, a patient or family member makes the decision to start hospice. You can also decide to stop hospice at any time. End-of-life care for ALS is provided wherever you call home, whether in a hospital, nursing home, assisted living, or your personal residence.
Hospice is covered by Medicare, Medicaid, and most private insurance companies. Hospice is a financial relief for many because care related to the life-limiting illness, such as medication, equipment, and supplies, is covered by hospice benefits, with few or no out-of-pocket expenses.
An evaluation is the first step for starting hospice or ALS palliative care. Doctors typically make referrals, but you, your family, or caregivers may request an evaluation.
Take the Next Step at Compassus
Making decisions for a loved one with ALS is difficult. However, we can make this process easier for you. Call us at 833.380.9583 or contact a local Compassus office to learn about referrals and end-of-life care for ALS.