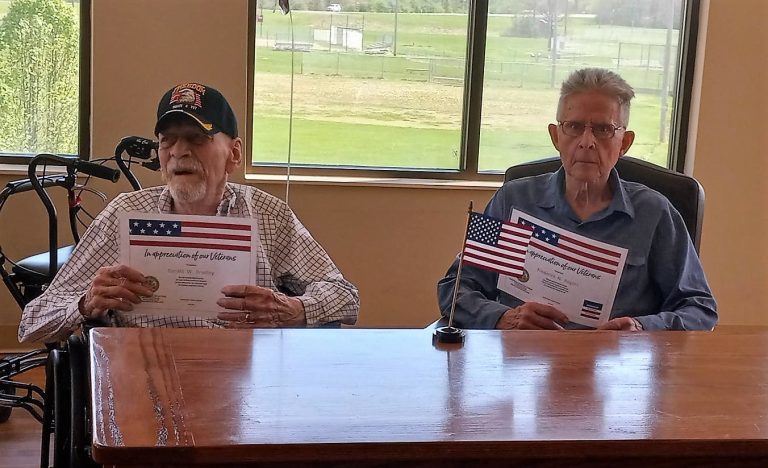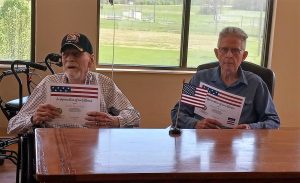 Two of Mexico's heroes were recognized for their respective sacrifices to their country Tuesday afternoon at the Missouri Veterans Home, Mexico.
Korean Conflict veteran Gerald "Gerry" Bradley, and Frederick "Ric" Rogers were honored in a pair of pinning ceremonies spearheaded by hospice care provider, Compassus, with an assist from volunteer, Janine Vogel.
"I would like to start by reading you a little quote," said Vogel, " 'It has been said that a veteran – active duty, retired, National Guard or reserves – is someone who, at one point in his or her life, wrote a blank check made payable to the United States of America for an amount up to – and including – his or her own life'."
Bradley – who was also celebrating his 91st birthday – served from 1950 to 1955, earning the rank of sergeant. "I enjoyed my time in the Army," said Bradley, who says he opted to go into the military because he was "going to be a superhero." Bradley served in ground support during the Korean Conflict, and says he enjoyed his time in the service. He attended boot camp in Fort Eustis, Va., and served in France.
As for Rogers, he was only nine days old when his father returned ho
me from World War II, having served as a chaplain. Ric would later volunteer to serve, going to basic training at Fort Ord, Calif., then to Detroit, and ultimately, Vietnam. He received the National Defense, Vietnam Service and Army Commendation medals and was an expert marksman with a pistol and rifle.
"I was grateful to be in another country," Rogers said, who appreciated the experience, but added he wouldn't want to do it again.
Both Bradley and Rogers served in active duty and today, both are in hospice.
A Mexico resident, Vogel knows that feeling as she is a veteran herself. She and her husband Michael both served in the Marines, and as a volunteer, Janine is happy to be making a difference in honoring those who served. "It's just a good way to serve the community," she said. "I have a heart for veterans." She signed up for the Marines after seeing a Marine recruiter. "All I saw was that Marine and his dress blues," she said, adding that pivoting from college to military service was "the best thing I ever did."
Tuesday's ceremony was the first she's done. Honorees can be from any branch of the service and Vogel notes that Compassus is always looking for volunteers. She was joined by other representatives, including Compassus volunteer coordinator, Mira Ackman.
"She's the one who put all this together," said Vogel. Vogel shared the message of Compassus, as well as millions of Americans to each veteran.
"Thank you for your service to our nation," she said. "Thank you for the sacrifices you made and your willingness to serve our country. You endured hardships and you were willing to risk your life to maintain our freedom. On behalf of everyone here today, the veterans of America, and our staff at Compassus, please accept our thanks and gratitude. When you see this pin, know that your service to the nation is deeply appreciated.
We thank you. Welcome home." Each veteran received a pledge card, certificate, flag pin, and a star from a retired flag from starsforourtroops.org.
Vogel explained the star's significance.
"This star states, 'I am part of our American flag that has flown over the USA'," said Vogel, 'I can no longer fly. The sun and winds caused me to become tattered and torn. Please carry me as a reminder that you are not forgotten'."
Joined by their friends, family, and fellow Veterans Home residents, the respective ceremonies were a fitting tribute. Attendees joined in prayer and Vogel shook hands with each veteran and closed with a military salute.
In closing, it was a ceremony well-deserved for both men and a fitting way to honor them.
To explore our volunteer opportunities, visit www.compassus.com/volunteers.
Click here to read the full article published in the Mexico Ledger.