Honoring Veterans: Lou Unfried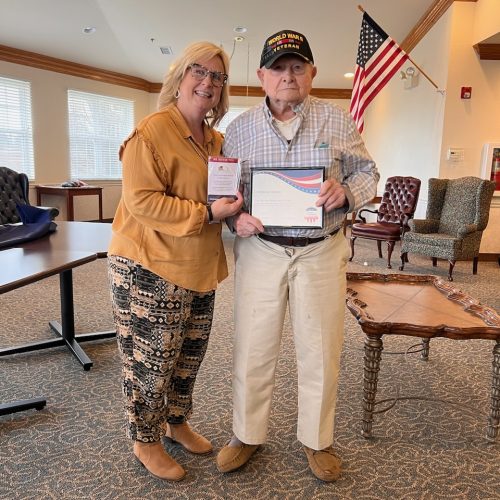 In the heart of Branson, Missouri, Compassus had the honor of celebrating a true American hero and patient, Mr. Lou Unfried, who recently turned a remarkable 102 years young. In addition to celebrating a life-well-lived, Compassus had the immense privilege of performing a We Honor Veterans Pinning Ceremony. As we soon learned through the celebrations, Lou's life is a tapestry woven with threads of courage, resilience, and the spirit of service.
A Hero's Beginnings
Lou Unfried's journey began on a pivotal day in history – the day after the attack on Pearl Harbor. With a sense of duty burning in his heart, Lou enlisted in the Army Air Corps, embarking on a 4.5-year journey that would leave an indelible mark on his life.
As the Flight Chief for 13 different missions, Lou soared through the skies in B29 aircraft, facing missions that lasted a grueling 18-20 hours. These flights took him over the vast expanse of the ocean, launching air attacks on Japan during a critical time in World War II.
Leadership and Laughter in the Face of Danger
Lou's leadership qualities shone bright during his time as Flight Chief. When faced with the daunting challenge of losing planes, he responded with a touch of humor, saying, "The only way to guarantee we don't lose another plane is to not send me!" And true to his word, he safely brought back all his comrades after each mission.
His bravery extended beyond the skies. During his time in Guam, Lou faced capture by the Japanese. Thanks to the heroic efforts of his troop, he was rescued from his captors, having endured beatings and bruises but emerging resilient and unbowed.
Life Beyond the Battlefield: A Career and a Love Story
After serving in the Army Air Corps, Lou and his wife embarked on a new chapter, settling in Maryland. Lou's career trajectory soared, from working in a large printing company to becoming a manager overseeing about 300 employees. His determination to climb the career ladder showcased the same tenacity that marked his military service.
In addition to his professional achievements, Lou harbored a passion for stamp collecting, amassing a diverse collection from across the globe. This hobby, like his life, reflects a curiosity and appreciation for the world's vastness.
A Legacy of Love
Lou and his wife, though childless, shared a joyous and fulfilled life together. They made their home in Branson, Missouri, where they continue to reside and create a legacy of love that stretches across decades.
Lou Unfried's story is a testament to the strength of the human spirit, the power of humor in adversity, and the enduring impact of a life lived with purpose. As we celebrate his 102nd birthday, we honor not just a veteran but a living legend whose tales of courage and resilience will continue to inspire generations to come. From the entire Compassus team we thank you Lou for your service and the honor of being your chosen and trusted caregiver.
Learn more about our We Honor Veterans Program
Learn more about our Branson, Missouri Program