Honoring Veterans: Jackie McCarter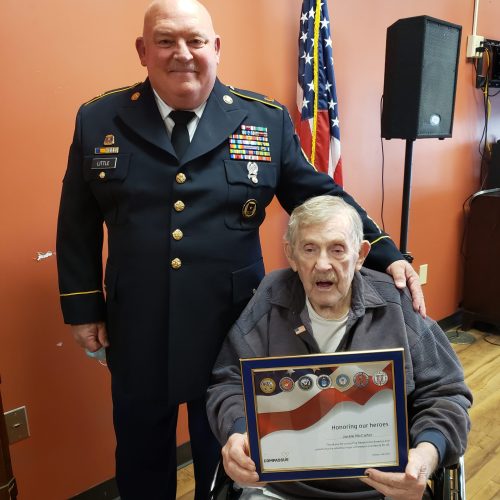 Compassus volunteer Ed Little from our hospice program serving Muncie, Indiana and surrounding communities had the privilege of performing a 'We Honor Veterans' Pinning Ceremony honoring Army Veteran Jackie McCarter. Jackie bravely served in the Korean War from 1950-1955 as an ambulance driver. Joining at the young age of 15, Jackie shared that his time in the military was very positive, and he was fortunate to have helped as many people as he did during his service.
After the service Jackie when onto to become a police officer so he could continue doing what he loved, serving, and helping others in his community. After his time on the force, he went onto to become a mechanic for John Deere—again doing what he loved– helping many in the community.
Thank you to dedicated Compassus volunteer Ed Little and the entire Muncie program for your steadfast dedication to sharing our 'Care for Who I am' culture with our patients and veterans. Most importantly, thank you Mr. Jackie Carter for your service and the honor and privilege of being your chosen caregiver.
To learn more about how you can make a difference in a patient's and their family's life by volunteering click here.
To learn more about the We Honor Veterans program click here.
You can learn more about our Muncie, Indiana hospice program here.