Honoring Veterans in Neenah, Wisconsin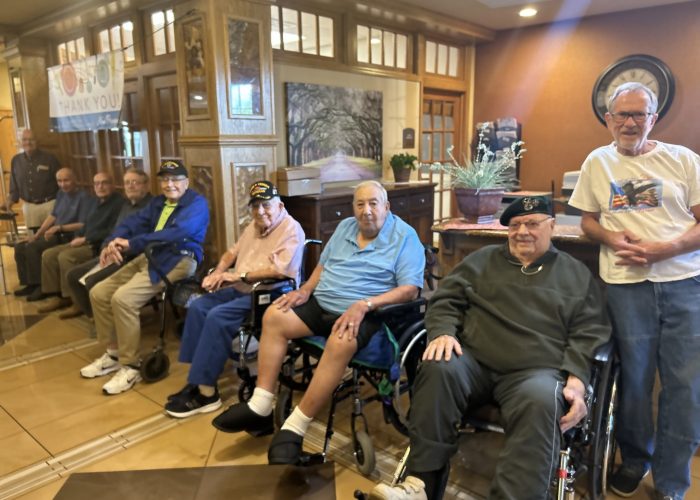 This past Veterans Day the Compassus hospice program serving Neenah, Wisconsin and surrounding areas had the privilege of performing a 'We Honor Veterans' pinning ceremony to recognize the service and sacrifices of 29 residents at New Perspective Senior Living Island Shores Living Community.
Partnering with New Perspective on the event, Compassus paid tribute to 29 remarkable individuals who bravely served in all branches of the military: Army, Air Force, Navy, Marine Corps, and Coast Guard.
The ceremony wasn't just about handing out certificates and pins; it was a touching affair that acknowledged the sacrifices made by veterans everywhere. The local Honor Guard from Neenah played a significant role, conducting a solemn 21-gun salute and playing Taps, paying homage to fallen heroes.
New Perspective went above and beyond to ensure the day was special for everyone involved. They provided delicious cake, warm reminiscing sessions, and coffee for all who attended the ceremony. It was not just an event; it was an opportunity for the community to come together and express their gratitude to the brave who dedicated their lives to serve the nation.
The veterans, with their varied experiences and stories, represented a tapestry of service, each with their own unique contributions to the defense of our country. Their commitment to protecting our freedoms deserves our highest admiration and respect.
To all the veterans honored that day and to veterans everywhere, we say a heartfelt thank you. Your selfless service and sacrifices have ensured the safety and freedom of our nation. Your bravery inspires us, and your dedication will always be remembered and cherished. A warm thank you to New Perspective for the privilege of honoring our veterans, and to our Neenah team for your steadfast dedication to sharing our 'Care for Who I am' philosophy with our veterans and their families.
Learn more about We Honor Veterans
Learn more about our Neenah, Wisconsin program.