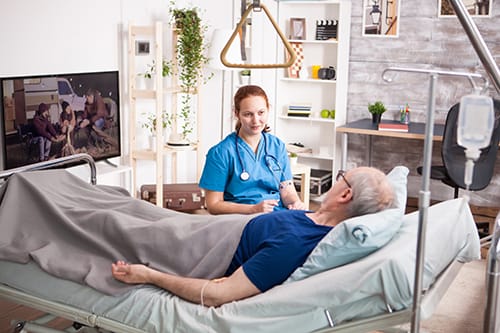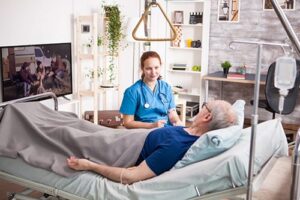 Caring for a family member at home can be a meaningful gift for someone with a life-limiting illness. 
Hospice at home can be challenging, but worthwhile. Caregivers must remember to care for themselves and maintain connections with family, friends, and the hospice team. These connections will be a lifeline in a time of need. If you are the primary caregiver for a loved one considering hospice, understanding what to expect, practical tips, and strategies to manage caregiving at home can make the journey easier.
Most people would prefer to die at home but also don't want to be financial burdens or ask family to make difficult decisions about end-of-life care.
Contact us at 833.380.9583 to learn more about our at-home hospice care options and how we support our patients.
What to Know About At-Home Hospice Care
The plan of care outlines hospice services and schedules. Developing the plan with your hospice provider allows you to ask questions and share what's most important to your family.
The hospice team arranges for the delivery of medical equipment and medications. They work with you on a schedule for visits from nurses, therapists, chaplains, social workers, and volunteers. The schedule adapts to your needs.
Frequent check-ins ensure the team provides for your most pressing concerns. Whether you need practical advice about daily care or intervention for a medical emergency, hospice nurses are available 24 hours a day. 
Benefits of At-Home Hospice Caregivers
There are a number of benefits of at-home hospice caregivers, including the following:
Helping patients with the activities of daily living, including bathing, dressing, feeding, and going to the bathroom

Ensuring your loved one has their prescriptions and that all medicines are given at the correct dose and time

Providing basic medical care, including changing dressing, taking temperatures and blood pressure readings

Understanding how to use medical equipment, which may include oxygen machines, wheelchairs, lifts, and hospital beds

Notifying hospice personnel of changes in the patient's condition
At-home hospice care can be incredibly beneficial, especially considering that most people want to spend their last days in their homes. 
Challenges to Expect with Home Hospice
Home hospice comes with challenges. With help, it is possible, with many families sharing that it is an affirming and profound experience. Medicare surveys show that almost 80 percent of caregivers say their hospice experience was positive.
Thankfully, you are not alone as a caregiver. The hospice team supports you at every step of the journey. If you need a temporary break, respite care is a Medicare benefit covering patient transport and up to five consecutive days of inpatient care at a nursing facility or hospital. 
Possible Need for Inpatient Care
There may be a time when care becomes too complex for family members. General inpatient care is appropriate when a caregiver is unable to manage care due to pain or other symptoms. The hospice schedules transportation to a facility with 24/7 nursing care. Hospice staff continues to support patients and families during inpatient care.
Things to consider when planning for hospice care include the following:
The hospice care timeline

Caregiving at life's end

Hospice is a family affair

Avoid caregiver burnout
Inpatient may be necessary in some cases, and it's essential to have a plan in place in case inpatient care becomes a need. 
The Limitations of Medicare Benefits
Medicare benefits do not pay for around-the-clock or 40-hour workday care. A family member usually steps in to be the primary caregiver at home. The hospice team works with caregivers to schedule visits. Medicare covers hospice in a nursing home but not room and board costs.
Hospice is a fully funded Medicare and Medicaid benefit. Most families choosing home hospice have no out-of-pocket expenses related to care for a terminal illness or support services. The U.S. Department of Veterans Affairs also covers hospice care for veterans.
Hospice patients still receive medical treatments for their non-terminal conditions. Patients agree to transition from curative treatments for a terminal illness to comfort care, which focuses on improving quality of life. 
At-Home Hospice Care with Compassus
Call us 24/7 at 833.380.9583 to learn about your options for in-home care. You may also browse a list of Compassus locations near you to speak with a local hospice provider.