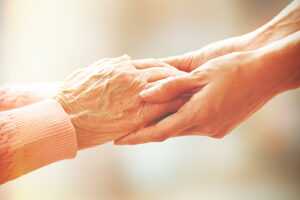 When caring for your loved one during end-of-life, figuring out how to pay for services can be a stressor for families and caregivers. Paying for hospice care can take time and effort to plan. You want your loved one to be comfortable and live their days with proper care and love. At Compassus, we want to improve our patients' lives in meaningful ways by providing home health, infusion, hospice, and palliative care.
Compassus is Medicare certified in every state we serve. Ask your health provider or have them call a Compassus location to verify Medicare or private coverage and benefits. Contact us at 833.380.9583 to learn more about paying for hospice through insurance and Medicaid.  
Medicare and VA benefits cover hospice care, including TRICARE and Medicaid, and so do many private insurance policies. These benefits offer patients and their families end-of-life care without overwhelming financial burdens. For eligible patients, Medicare provides physical, emotional, and spiritual support for patients and their families. It covers medications, personal supplies, and home medical equipment related to a terminal illness. Many insurances make paying for hospice care relatively easy.
Medicare, Medicare Advantage, and other insurance plans typically cover expenses if these requirements are met: 
Your doctor and a medical director from a hospice program certify the patient has six months or less to live if the illness runs its normal course.

The patient signs a statement choosing hospice instead of curative treatments for their terminal illness. You can stop hospice and return to curative treatment at any time.

The patient receives care from a Medicare-approved hospice program.

Support is provided in a private home, nursing home, a hospital, or anywhere a person calls home.
Some medications included in end-of-life care may require a five-percent co-pay. Providers customize a plan of care with input from you and your doctors. Talk with your hospice agency early and often about possible out-of-pocket expenses. 
Hospice Care Costs Included in Insurance
Hospice services include respite care for families needing a short break from in-home care. Patients or their families are responsible for five percent of the cost of respite care at a Medicare-approved facility.
Hospice care is a VA benefit for qualified Veterans in the final chapter of their lives, typically six months or less. The VA works closely with local hospice agencies to provide care at home, in a nursing facility, or hospital.
Most private insurance health plans cover the cost of hospice and palliative care. These plans typically have eligibility requirements that match Medicare and offer the same list of services. Talk to your insurance provider about eligibility, deductibles, and possible co-pays. A few insurance plans have unique respite or general inpatient requirements.
Hospice Services Paid for by Medicaid
Medicaid hospice benefits vary by state. Coverage in most states is similar to Medicare benefits. Some states require a co-pay for certain hospice services, usually determined by income. Hospice eligibility requirements and services are similar for Medicare and Medicaid.
Covered hospice services include the following:
Home medical equipment and personal supplies

Around-the-clock access to care

Management of complex pain and other symptoms

Hospice aide for personal care and light homemaking

Medical social services

Spiritual care and support

Physical, occupational, dietary, and speech therapies

Support from volunteers

Short-term inpatient respite care (relief) for family caregivers

Ongoing grief counseling for the patient, family, and friends
Private insurance also often provides hospice and end-of-life care. 
Hospice and Insurance with Medicare
Here are some facts about Medicare and paying for hospice: 
The hospice benefit includes two 90-day benefit periods followed by an unlimited number of 60-day benefit periods. Hospice patients receive care as long as the doctor and the hospice medical director certify that the patient is terminally ill.

Medicare does not pay anything toward room and board expenses. The exception is short-term inpatient or respite care.

Workplace or private insurance is the primary coverage. Medicare serves as secondary coverage. 
Paying for Hospice Care with Compassus
If your loved one is going through the end-of-life process and needs help planning for care, Compassus is here to help. We're available nationwide, with respect for you and your loved one, that can help ease the sometimes tricky process before you.
Call our customer service center at  833.380.9583 if you have questions. Visit our locations page to find a hospice program near you. Call us 24/7 for information or to schedule a free consultation.