Comfort care is often used interchangeably with palliative care or hospice. All three terms refer to care that improves the quality of life by relieving suffering and providing practical, emotional, and spiritual support. Comfort care is a holistic approach to addressing people with serious illnesses' medical and non-medical needs. It also supports family members, especially family caregivers.
At Compassus, we provide comfort care services to help those with severe illnesses and their families. Our approach centers around compassionate and dignified end-of-life care. We understand how difficult it can be for patients, caregivers, and family members when a loved one is entering the last stages of life. Comfort care provides comprehensive support for all involved in such situations. To learn more about how we can help you and your family, reach out to us at 833.380.9583 today.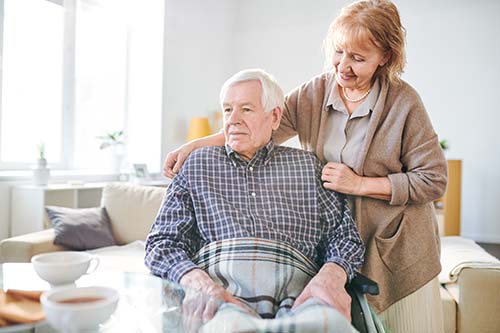 Comfort care is a type of end-of-life medical treatment that focuses on providing comfort, quality of life, and dignity instead of extending life. As such, comfort care can include treatments like pain management, skin and mouth care, nutrition, ensuring a patient's spiritual needs are met, and planning for death following the wishes of the patient and their family. Though comfort care does not always guarantee a longer life, it can improve the overall quality of life for those who face advanced or terminal illnesses.
End-of-life comfort care is essential for patients during this challenging stage of their lives, so they can feel as comfortable physically and emotionally as possible as they approach the end.
The healthcare industry has seen many advances recently, including the growing utilization of comfort care and hospice services. Comfort care is focused on managing symptoms to ensure a patient's quality of life in end-stage injuries or illnesses is as comfortable as possible. Hospice focuses on providing palliative and supportive care for patients with a limited life expectancy who can no longer benefit from curative treatment or treatments that prolong life.
Although both services are comforting and supportive to patients with terminal illnesses, it is important to know their differences to make an informed decision when necessary. End-of-life care offers support while working towards healing and recovery, while hospice offers care without cures when healing is not an option. Understanding what each of these services provides will help you make educated decisions about your loved one's healthcare journey.
Choosing a Provider for Comfort Care
Effective comfort care starts with clear conversations about patients' and their families' goals and expectations. Be prepared with a written list of questions and concerns for your doctor and potential care providers. Questions may include:
How are urgent care needs handled, especially on weekends?
How often will staff visit?
Do you help with care transitions?
Are services covered by Medicare or other insurance?
Are there out-of-pocket expenses?
Do you provide home medical equipment?
Does an independent and reputable organization accredit you?
Some of the most common medical conditions for comfort care patients include cancer, heart failure, chronic obstructive pulmonary disease (COPD), stroke, and Alzheimer's.
How Do You Decide on Home Comfort Care?
Patients can make their wishes known years beforehand in a document called an advance directive or living will. A 2003 Hastings Center project reported that many people fear losing control, suffering in pain, and being a burden on their families as they near the end of their lives. Advance care directives, palliative, and hospice care provide a plan for greater dignity and independence, even when facing serious illness. Talk to your doctor, family members, and friends. Too often, people think talking about end-of-life care is giving up.
Comfort care is not about dying—it's about living as well as possible, for as long as possible.
Call Compassus for Comfort Care Services
Compassus is committed to providing compassionate, quality comfort care services for patients and families facing life-limiting illnesses. Our team of dedicated professionals understands the importance of dignity, respect, and quality of life during this difficult time. We'll create a customized care plan that meets your needs and provide exceptional clinical care in the comfort of your home. With Compassus comfort care services, you can rest assured that your loved one will receive the highest quality of care and the utmost respect.
Contact us today 833.380.9583 to learn more about our comfort care services and discover how we can help you.