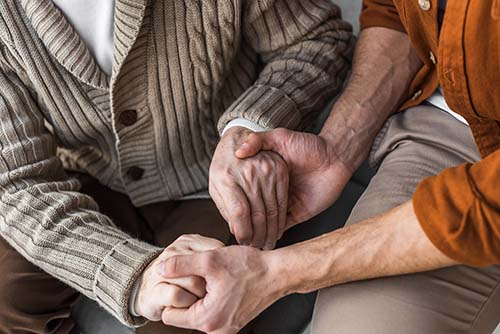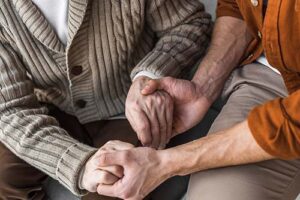 If you're caring for someone with late-stage Huntington's disease, you probably don't need us to explain the challenges that come with the disease. We recognize that you need clear information about hospice care for late-stage Huntington's disease and practical support.
Our first step is listening. Huntington's is a complex mix of physical and emotional problems unique to each patient and family. That's why your needs guide our care.
Some families tell us they're reluctant to ask for a hospice evaluation because it feels like giving up. Hospice is not about dying. It's about reducing pain, anxiety, and other symptoms so patients and families can focus on the best quality of life possible. Hospice also addresses the emotional and spiritual needs of patients, as well as family, who often need as much support as patients themselves.
Referrals and Eligibility: Hospice Care for Late-Stage Huntington's Disease
Families dealing with Huntington's should ask for a hospice or palliative care referral as early as possible. Hospice social workers can help you with an advance care directive or living will. These are legal documents that specify what medical actions should be taken or withheld if a patient is no longer able to speak for themselves. Documenting preferences before a medical emergency can reduce stress later on.
An example is planning for swallowing problems common in the late stages of Huntington's disease. Swallowing often becomes so difficult that patients can't eat enough to maintain their weight. Understanding the benefits and drawbacks of artificial feeding, and sharing your thoughts with medical providers, enables you to get the medical treatments you want.
Hospice referrals for Huntington's can be challenging because it's difficult to predict decline. Common end-of-life signals include significant weight loss, difficulty swallowing or breathing, recurrent aspiration pneumonia, and uncontrolled pain. Staff at our locations are available to talk about eligibility requirements.
Huntington's Disease Palliative Care Options
You can also talk to your doctor about palliative care. Palliative care is for people at any stage in their illness, while hospice is for patients with a life expectancy of six months or less. Both types of care are available at home, in nursing facilities, or in hospitals.
What Happens Once Hospice Starts?
Your hospice team includes a doctor, nurses, social worker, counselor, chaplain, home health aide, and trained volunteers. They work with you and your doctors on personalized hospice care for late-stage Huntington's disease.
Hospice providers have specialized training to manage pain, especially for those who have difficulty communicating.
Other services from the hospice team may include:
Medicines and strategies to manage breathing and swallowing problems
Controlling nausea
Managing anxiety and difficult emotions
Reducing incontinence or constipation issues
Preventing pressure ulcers and other skin-related problems
Inpatient respite care when family caregivers need relief
Coordinating with nursing facilities if a loved one needs continuous care
Emotional and spiritual support for patients and family
Grief support for up to 13 months after the death of a loved one
Family caregivers who find meaning and purpose in their journey are healthier, happier, and experience less burnout. Learn to step back and find your source of joy. The best caregivers are those who learn to care for themselves.
Hospice social workers, chaplains, and others support families through:
Services that reduce caregiver burden and burnout
A listening ear backed up with practical resources
Emotional and spiritual support
An evaluation is the first step for hospice or palliative care. Doctors typically recommend care, but you, your family, or caregivers may request an evaluation.
Find the Help You Need with Hospice Care for Late-Stage Huntington's Disease
This is a challenging time for seniors and their families. Get the help you need. Call us at 833.380.9583 or contact a local Compassus office to learn about referrals and care for palliative care and hospice care for advanced Huntington's disease.