Routine home care is a type of hospice care provided in the patient's home or place of residence. Hospice routine home care focuses on providing comfort and symptom management instead of curative treatments. The primary goal is to provide physical, spiritual, and emotional comfort for patients and their families during the end-of-life process.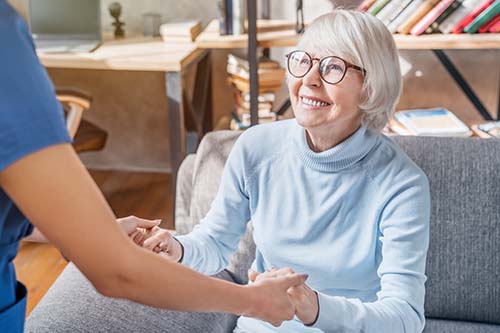 If you are a caretaker looking for more information about hospice routine home care for your loved one, contact Compassus at 833.380.9583 today. We can help you find the right care plan for your loved one that best meets their individual needs. Our professional staff is here to guide you through every step of the process, from understanding the different types of hospice services to helping you coordinate end-of-life care.
What Is Hospice Routine Home Care?
Hospice routine home care is a type of hospice care that provides end-of-life services to patients in their own homes. Services provided by hospice routine home care may include:
Nursing visits
Social worker visits
Physician visits
Medications to manage symptoms
Medical equipment and supplies
Physical, occupational
Speech therapy
Emotional and spiritual support for the patient and their family.
Hospice works best when there are clear conversations among patients, family members, doctors and the hospice team. Together, they create a plan of care outlining the needs and priorities of the patient and family caregivers. This plan is always adapting to people's changing needs.
The hospice team is always available, but routine care is not round-the-clock nursing care at home. The primary caregiver is usually a family member trained by the hospice to provide much of the daily hands-on care. At-home hospice can be challenging, especially for family members with children or careers outside the home.
When Is Hospice Routine Home Care Needed?
Hospice routine home care is typically recommended when the patient is no longer responding to curative treatments and has a prognosis of six months or less. Hospice care focuses on helping patients and families make the most of their time together, managing pain and other symptoms, so the patient can live as comfortably as possible.
What If Home Care Becomes Too Much?
Medicare benefits include short and long-term support options for families, such as:
Respite care gives family caregivers time off to recover and recharge. Benefits pay for up to five consecutive days at a nursing facility.
Continuous home care offers short-term 24/7 nursing support at home.
Inpatient care is round-the-clock care in a Medicare-approved facility. Patients return home if their symptoms stabilize.
Hospice is a special type of care designed to provide comfort and support for people in the last stage of life. Working with a hospice provider is the best way to ensure your loved one receives the highest quality of care available throughout the end-of-life process.
What Does Routine Hospice Care at Home Cost?
Hospice is a Medicare and VA benefit. It is also covered by many private health insurance plans. Coverage includes nurses, other caregivers, medicines, supplies, equipment, and support, with no out-of-pocket expenses for the hospice diagnosis. Most care is provided in the patient's home, but some services may take place in a nursing facility. Compassus can help you understand your options for hospice care and how to access insurance benefits.
This is a difficult and emotional time for you and your family. Compassus is dedicated to providing quality end-of-life care that meets the unique needs of each patient and family. If you have questions or need more information about hospice routine home care, contact Compassus by calling 833.380.9583 or by filling out our secure online form. We are here to help you navigate every step of the end-of-life journey.