When a loved one is dying, planning and organizing hospice can feel overwhelming. Trying to determine what hospice care supplies to bring home can be daunting. But it's important to ensure that your loved one is comfortable and has all of the necessary medical equipment, supplies, and home care supplies.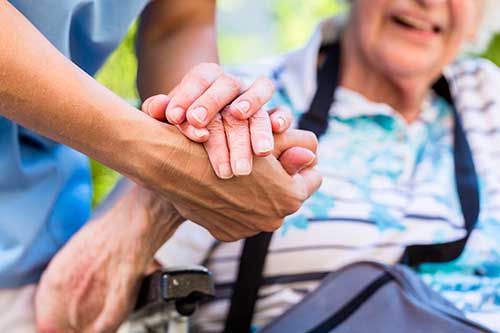 Hospice medical equipment can make the end of life more comfortable for patients and provide you with peace. Compassus can help you understand what kind of hospice medical equipment is appropriate for your loved one. Please contact Compassus today at 833.380.9583 to learn more about hospice medical supplies. We can help you find the best products for your needs so that your loved one is as comfortable as possible.
What Are Hospice Care Supplies?
Hospice care supplies include beds, wheelchairs, walkers, oxygen tanks and tubing, suction machines, recliners, and lift chairs. These supplies help make life easier for your loved one and also help create a peaceful environment.
Family caregivers often feel unprepared to care for a loved one coming home from hospice. The hospice plan of care outlines home medical supplies, medications, visit schedules, and caregiver education. To be well-prepared, a hospice admissions nurse recommends the following hospice care supplies to get started:
Two sets of twin sheets
Under-pads; disposable or made of cloth
Extra pillow for comfort and positioning
Baby or adult wipes
Adult briefs (diapers), ideally the tab type
Baby monitor or small bell for the hospice patient to alert others when they need help
Thermometer, ideally the temporal or forehead type, so the patient is not disturbed
Bendable straws, if they are allowed, and the patient does not have swallowing issues
Protein drinks or protein powder to add to fruit smoothies
Mild or bland food, including applesauce, oatmeal, cream of wheat, yogurt, pudding, or bananas
Distilled or bottled water for the oxygen concentrator humidifier bottle, if oxygen is used
Night lights for the room and hallways
Small wastebasket with trash liners for the bedside
Handheld shower hose
Nightgown or nightshirt, ideally loose, comfortable, made of cotton, and without pant legs
Gathering these supplies and equipment in advance can help make the transition to hospice care smoother.
Why Hospice Home Care Supplies Are So Vital
Hospice home care supplies are essential in providing comfort and safety for your loved one. They are also helpful to the caretaker and hospice team in monitoring the patient's condition and providing an optimal level of care.
The benefits of getting guidance while gathering hospice care supplies include:
Being prepared with the right supplies and equipment in anticipation of your loved one's health needs
Having a safe environment for your loved one
Saving money and reducing stress by getting the necessary supplies before they are needed
Knowing what supplies to get, where to get them and how to properly use them
Remember, these supplies should be tailored to the patient's individual needs. Each person is different and may require different supplies.
Compassus has the experience and resources to help you identify which hospice care supplies are necessary for your loved one's care.
Find Guidance with Compassus
Trying to figure out the proper hospice medical supplies and how to attain them can be overwhelming. Contact Compassus to get guidance on what supplies are appropriate for your loved one and how to obtain them. Call us at 833.380.9583 or fill out our online form to get advice and resources for your loved one's hospice medical supplies.
We understand how stressful and tragic it is when a loved one is facing the end of their life. Our team of experts can help you find the right supplies and support so that your loved one is as comfortable and peaceful as possible. With our guidance, you can focus on providing the best care for your loved one with peace. Compassus aims to help minimize the stress and make the hospice journey as best as it can be.