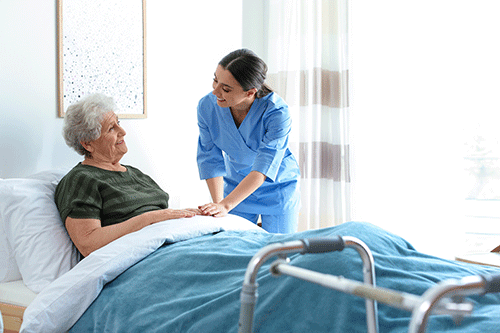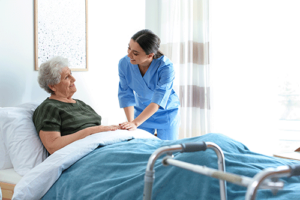 For most people, home is a place of safety and retreat. It's where to find comfort in friends, family, and the routines of daily life. Patients often tell us they fear losing their independence. This loss of control is an important reason why many people prefer to be at home in their final days, surrounded by family and friends.
Preparing for at-home hospice can be challenging, but you don't have to shoulder the responsibilities alone. Compassus offers compassionate assistance to help a family through this process. We offer home health, infusion, hospice, and palliative care to ensure your loved one is comfortable and cared for in their final days. Contact Compassus today at 833.380.9583 to learn more. Our team of professionals is ready to help guide you on how to set up hospice care at home.
Preparing for At-Home Hospice
When it comes to preparing for at-home hospice, it helps to have a plan. The first step is talking with a hospice care provider to match your expectations with their services. Make a list, and don't be afraid to ask questions, such as:
What services can we expect from nurses, aides, social workers, chaplains, and volunteers?

How often will they visit?

Are staff available after hours, on weekends, or during emergencies?

What is expected of family caregivers?

What if we need respite care or care becomes too complex?
Questions like these can help you develop a plan that best meets your loved one's needs. Regardless of the services provided, the hospice care team will work with you to ensure your loved one has the support they need.
Medicare Benefits and Medical Equipment
Another essential factor to consider when preparing for at-home hospice is the availability of Medicare benefits and medical equipment. Most decisions about preparing the home should balance the needs of both the caregiver and the patient. Eliminating barriers for the caregiver leads to less stress and more time for important moments together.
Medical equipment may include:
Hospital bed

Walker

Wheelchair

Geriatric chair

Oxygen equipment

Shower chair

Bedside commode
Medicare covers the cost of the equipment, delivery, and setup.
Considerations for Comfort and Entertainment
The patient's comfort and entertainment should not be forgotten when preparing for hospice at home. Helping your loved one stay comfortable and entertained is essential. Here are a few tips:
Screens or curtains can help with privacy

Make it easy to moderate sound, light, and temperature

Consider a comfortable chair with arms for watching television, reading, or visiting

Headphones for television or music help those with hearing loss

Access to snacks and drinks
Creating a peaceful and comfortable environment is an integral part of preparing for at-home hospice. After all, the final days of life should be spent surrounded by those who matter most and in a place that feels like home.
Other Hospice Planning Tips
There are even more aspects of at-home hospice to consider. When it comes to safety for patients and caregivers:
Remove rugs and tripping hazards from hallways and rooms

Get nightlights to illuminate hallways and baths

Install non-slip bath mats

Consider adding grab bars or handrails and ensure they meet safety codes

Make room for medical equipment
If you are the family caregiver, consider the following:
Make a folder for medical records and contact numbers

Encourage visits from family and friends as long as you and your loved one are up for visits

Volunteers are available for companionship, running errands, and more

Your hospice team can help you organize and manage medicines

It's not too late to complete an advance directive or living will
Taking these extra steps helps ensure that hospice care and medical equipment are available at home when needed. This will help create a peaceful, comfortable transition for your loved one.
Additional Support for Caregivers
Remember that hospice care providers can help you plan for short-term respite (relief) care for breaks or vacations. Reach out to your church or faith community for help. Turning to your family, friends, and the hospice team for support is essential. And feel free to use online resources for additional information about caregiving and home hospice. And don't forget to rest and eat right. What's good for the caregiver is suitable for those in their care.
"Care for who I am."
Preparing for Hospice at Home with Guidance from Compassus
At Compassus, we understand that making plans for home hospice care can be difficult. Our experienced and compassionate team is here to support you and your loved one through this journey. Please feel free to contact us at 833.380.9583 today.