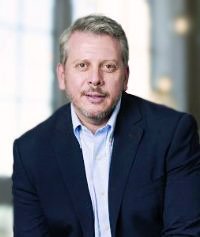 It's okay to talk about suicide, especially with loved ones who might be struggling. In recognition of National Suicide Prevention Month, Compassus Senior Vice President and Chief Medical Officer Dr. Kurt Merkelz provides helpful advice for talking to friends and family members about suicide.
Watching friends and family members struggle is an awful experience. We might feel helpless or that we can't make a difference, especially with older adults who are facing the challenges of aging. Long-term health issues, pain and terminal illness can significantly interfere with a person's day-to-day life, their ability to take care of themselves and their overall happiness. The resulting social isolation, loss of independence and potentially strained relationships with family and friends can negatively affect a person's mental health.
For these reasons, older adults with chronic pain or serious or terminal illness can be high risk for suicide, as can their families as they cope with the stress of caregiving. The latest Centers for Disease Control and Prevention statistics show adults ages 85 and older have the highest suicide rate, followed by those ages 75-84. They deserve special attention, support — and hope. National Suicide Prevention Month, observed in September, is a relevant time to increase awareness of suicide risk among older adults and their caregivers. 
Addressing harmful or suicidal thoughts head on is crucial to ensuring a person's health and safety. If you suspect a loved one is struggling or considering self-harm, try this approach to talk with them about your concerns.
Ask how they're feeling
Let your loved one know you are concerned and care about their wellbeing. This is a simple but powerful step in connecting with someone grappling with isolation or loneliness. Knowing someone cares enough to listen can be a great comfort.
Ask them how they are feeling – physically and emotionally – and what they are thinking. Directly asking someone if they are suicidal will not influence or encourage them to complete the act. Instead, discussing suicide openly and honestly and genuinely asking how they are doing can give the person the opportunity to take steps toward getting the help they need.
Try these conversation starters:
"How are you getting by?"
"I've noticed you haven't been yourself lately. Is everything ok?"
"I'm worried about you. Can we talk about what's troubling you?"
"You seem really [down/sad/angry/unhappy] lately. I'm worried you might be thinking of hurting yourself or attempting suicide. Can we talk about this?"
Follow up with these questions:
"How long have you been feeling this way?"
"Have you tried to harm yourself before?"
"What might make you act on these thoughts?"
"Do you have a plan in place?"
"How can I support you right now?" 
Actively listen
During these conversations, the goal is to genuinely hear and understand your loved one and serve as a comforting presence. The focus should not be fixing or solving their problem.
Convey your concern and attention by:
Maintaining eye contact and offering affirmations such as, "I see," or "sure."
Listening without judgment. Validate their feelings with statements including, "I understand how that would upset you," and, "I probably would have reacted the same way."
Summarizing their experience to show you heard and understood what they said. This shows you were listening attentively and allows them to correct you if you misunderstood. Try saying, "For you, it feels like [paraphrasing what the other person said]."
Acknowledge and respect their experience
Give your loved one time to finish their thoughts before speaking and potentially interrupting them. If they are having a difficult time discussing an emotionally challenging topic, gently encourage them to continue speaking but don't rush or push them. Pay close attention to their body language and tone of voice to assess how they are feeling.
During this conversation, work with your loved one to identify other avenues for support such as family members, friends, neighbors or colleagues. If they are willing to seek professional help, you can help connect them with a licensed counselor or a therapist. If they are at immediate risk for suicide, contact emergency services on their behalf. Most importantly, always take signs or talk of suicide seriously. For help, call the National Suicide Prevention Lifeline: 800-273-8255.
Social connection is a basic human need. Beyond emotional support, relationships impact our physical health and longevity, according to Mental Health America. Reaching out, listening and acknowledging our loved ones' feelings can make a life-saving difference.
Kurt Merkelz, M.D., is senior vice president and chief medical officer of Compassus, where he leads the company's quality and clinical initiatives, ensuring the delivery of quality patient outcomes and increased access to end-of-life care.