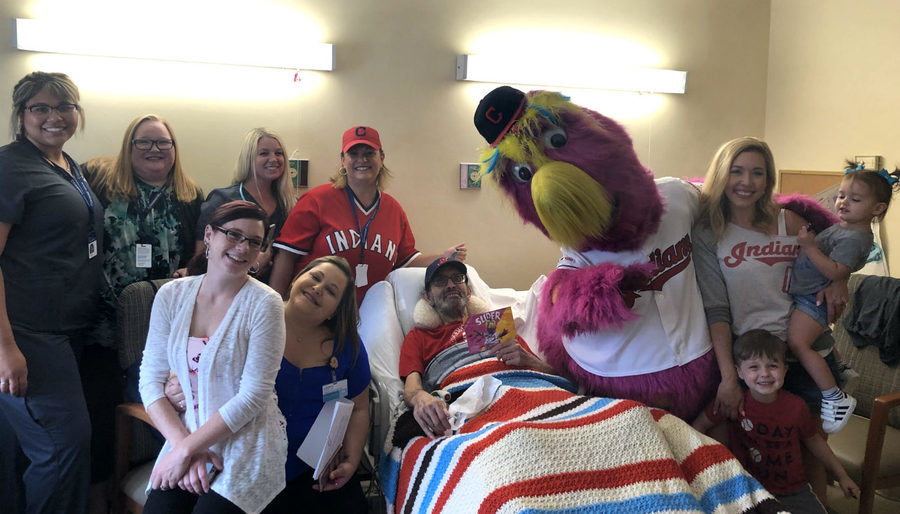 CLEVELAND – Cleveland Indians fan Charles Savoca received a special visit from the team's mascot Slider on Wednesday, June 5. Savoca, who has multiple sclerosis (MS), is a Compassus hospice patient and resides at Falling Water Healthcare Center, a skilled nursing facility in Strongsville, Ohio.
Savoca grew up in Slavic Village on the east side of Cleveland and has been an Indians fan since day one.
"I do not know another fan who is as detail-orientated about the game of baseball and the Cleveland Indians than my dad," said his daughter Brianna Savoca Koehler.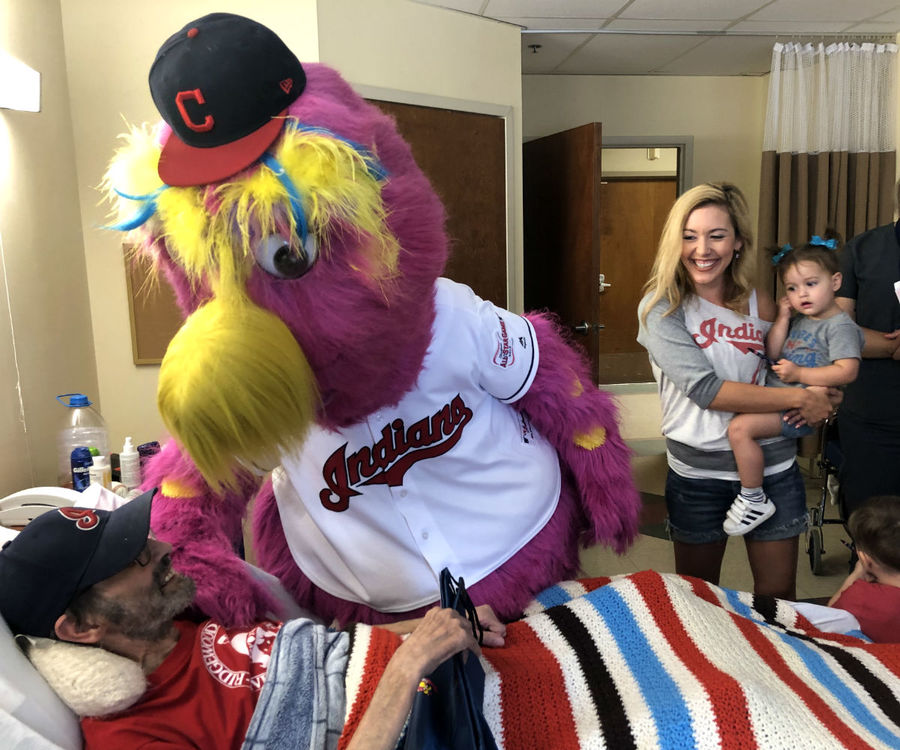 Compassus and Falling Water collaborated to grant one of Savoca's last wishes – to see his favorite baseball team's mascot. The two partners put together their resources and reached out to the Indians organization to schedule a visit from Slider.
"A common misconception about hospice is that it is about giving up when, in fact, it is truly about living life to the fullest when time remaining is limited," said Tanya Gustafson, a social worker and volunteer coordinator at Compassus – Cleveland. "It's an honor to work with organizations like Falling Water to fulfill patients' dreams and bring peace, joy and meaning to them and their loved ones."
Savoca's older daughter Brianna and her two children, as well as staff from Compassus and Falling Water, were in attendance during the visit. Slider brought him "Slider" slippers and danced with his grandchildren.
"I have not seen my dad smile so much in a long time," said Savoca Koehler of Slider's visit. "I am so grateful to Compassus, Falling Water and the Indians organization for granting my dad's wish. My family is so moved and touched."
Savoca's daughters Brianna and Kali are avid supporters of the National Multiple Sclerosis Society. Kali participated in the Bike the US for MS in 2015. Brianna, a social media influencer, plans to donate all the June advertising revenue from her YouTube channel to the National MS Society.
For more information about Compassus – Cleveland's visit our Cleveland landing page or call (440) 899-7659.