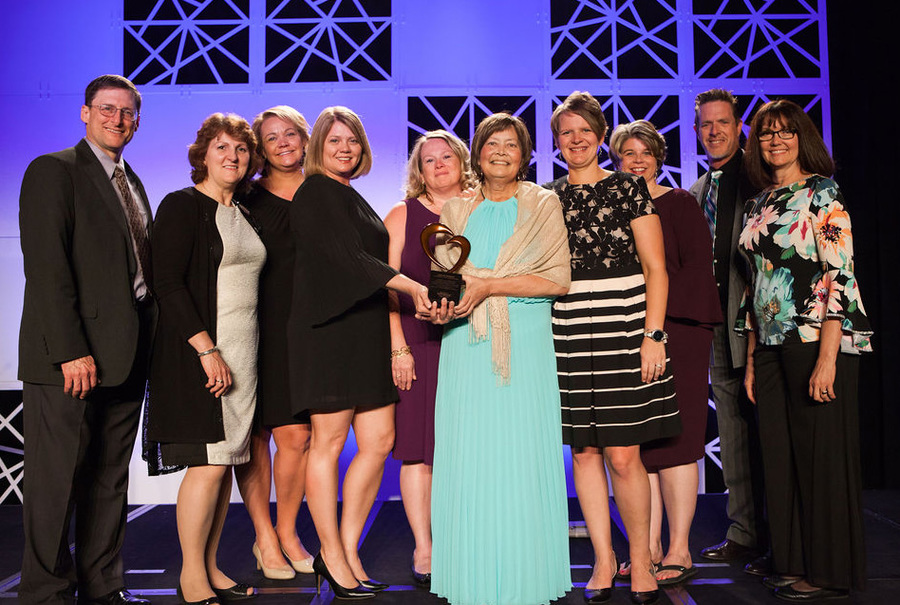 MACON, Mo. – Susan Bentley, team coordinator of the Compassus hospice program in Macon, Missouri, has been awarded the company's highest individual colleague honor. Bentley received the Carlos Burruel Compassus Core Values Award during a ceremony earlier this month at the Compassus National Medical Directors, Leadership and Presidents' Circle Meeting in Scottsdale, Arizona.
According to her colleagues, Bentley's endless kindness captures the essence of the award, which
is given to a colleague who exhibits exemplary personal and professional character and embodies the company's core values of compassion, integrity and excellence.
"I can't think of anyone more deserving of this award," said Mandy Lawrence, regional vice president for Compassus. "The love, compassion, integrity and excellence Susan exudes to our patients, families, facilities, and colleagues is unlike anything I have ever seen."
As team coordinator, Bentley is the first point of contact for many patients and families. She greets them with warmth and kindness and listens intently to their needs and concerns, offering empathy for their situations. She relates to them in a very special way and understands what many of them are going through, fighting her own battle with cancer since 2014. She has shared the positive benefits of hospice with members of her community and supported them as they have made their personal decisions to enroll.
"Susan has a gentleness about her that pulls everyone into her extended family," said Jennifer Dunkin, RN, director of clinical services for Compassus – Macon. "I see the way she lives her life to help others and it encourages me to be a better person.  Integrity is not an action or thought but a profound and deep part of who she is."
The Carlos Burruel Compassus Core Values Award is presented annually to a Compassus colleague "in recognition of a personal and professional character and heart imbued with compassion, integrity and excellence, evidenced in every interaction with patients, families and colleagues, and worthy of universal admiration and respect."
"The Carlos Burruel Award is extremely dear to my heart, and I am honored to present it such an admirable colleague," said Compassus CEO Jim Deal. "Susan goes above and beyond to make those around her feel special, and now it's her turn."
Bentley was not only astonished by the presentation of the award, but also by who was there to help her celebrate the award: her sister Terresa and brother-in-law Bryan Lindstamer flew to Scottsdale to surprise her.
Compassus' mission is to provide high-quality end-of-life, advanced illness and home health care to patients and their families with compassion, integrity and excellence. The company's goal is to provide the greatest possible comfort and care in life's most intimate and challenging moments.
For information about Compassus – Macon, please visit our Macon, Missouri page or call (660) 385-4400.