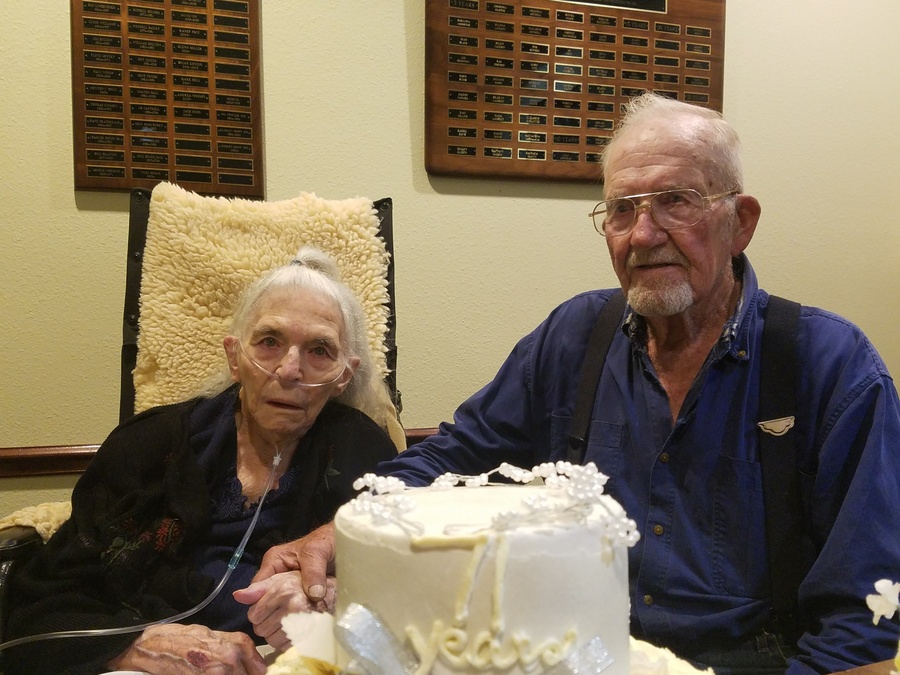 WEST PLAINS, Mo. – The Compassus program serving West Plains partnered with West Vue Nursing and Rehabilitation Center to surprise a hospice patient and her husband on their 71st wedding anniversary.
Mildred Risner is a Compassus hospice patient living at West Vue. She met her husband, Hubert, in 1947 when she was 18 years old and he was 21. Hubert worked for the International Shoe Company and local hospital for many years, and at 92 years old, he continues to raise goats and cut and sell firewood for people in the area. Mildred's favorite pastime was raising rabbits. When asked how they've had a successful 71-year marriage, Hubert answered, "We've worked hard our whole lives."
With the help of Compassus and West Vue staff, the couple celebrated their 71st wedding anniversary on May 3 with a cake reception.
"It was such a special moment to witness," said Teresa Perkins, bereavement coordinator at Compassus – West Plains. "I am so proud to be a part of an organization that cares so much for its patients and families. This experience is something I will always cherish."
For more information about Compassus – West Plains, please visit compassus.com/west-plains or call (417) 256-4127.