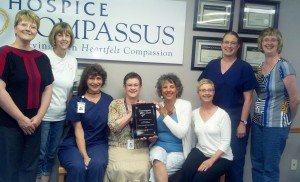 SPRINGFIELD, Mo. — The Compassus program serving Springfield and surrounding communities has become the first Compassionate Touch®-certified hospice program in southwest Missouri according to Ann Catlin, OTR, LMT—a Springfield resident and founder of the Center for Compassionate Touch, LLC.
Compassionate Touch is an evidence-based approach that combines skilled touch with compassionate presence to enhance quality of life for those in the later stages of life. Designed to ease physical, behavioral and emotional distress, the holistic program provides symptom relief and patient comfort. And with a focus on empowering caregivers, it also emphasizes family engagement.
"We've learned through our training that compassionate presence is both a personal quality and a professional skill that reduces patients' anxieties and increases their sense of trust. I'm very pleased we now have the expertise to incorporate skilled human touch in our hospice care to create a more positive environment for our patients and families," said Amy Winburn, Executive Director of Hospice Compassus – Southwest Missouri.
The methods used in Compassionate Touch combine specific techniques – including focused touch, hand massage, slow-stroke back massage, and foot massage – with the qualities of compassionate presence.
"Touch deprivation is very real, especially for the medically frail elderly. And while they are often especially receptive to touch, they are typically the least likely to receive expressive human touch from health care providers," said Catlin.
Participating in a recent eight-hour train-the-trainer workshop, the Compassus program serving Springfield and southwest Missouri became certified through a combination of classroom and hands-on training. Those trained will now train their colleagues. Subsequently, patient family members and others in the community will have the opportunity to learn Compassionate Touch practices.
Catlin founded the Center for Compassionate Touch in 2002. She is a recognized expert in the field of massage for those in later life stages, author and award-winning educator.
For more information about Compassus or its hospice services, visit compassus.com or call (417) 882-0453.