Honoring Veterans: Shenandoah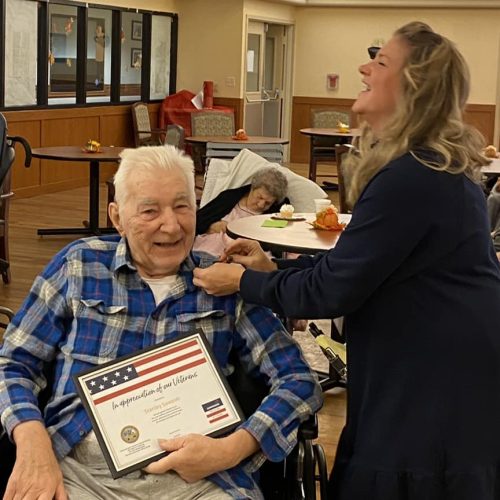 The Compassus hospice program serving Hamburg, Pennsylvania and surrounding areas had the privilege of performing a 'We Honor Veterans' pinning ceremony at the Shenandoah Senior Living Community.
Twelve veterans from the Navy, Air Force, and Army were recognized for their service, dedication, and sacrifices. Veterans received a pin, a certificate of recognition, and enjoyed sharing stories over cupcakes and coffee.
Thank you to Compassus Hospice Care Consultant Danielle Wychulis for leading the ceremony, for being a steadfast ambassador to our Care for Who I am culture, and for honoring the sacrifices and service of our veterans. Thank you to Shenandoah Senior Living for allowing us the opportunity to honor our veterans and most importantly, thank you to the twelve veterans and veterans everywhere for your service and sacrifices to protect our freedoms.
Learn more about our We Honor Veterans Program
Learn more about our Hamburg, Pennsylvania Program.