Honoring Veterans: Shannon Mclaughlin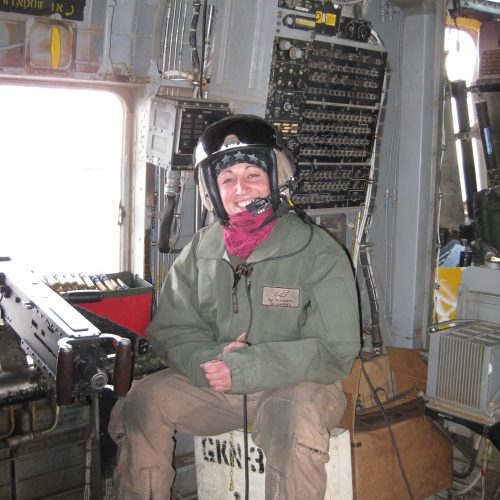 On November 10th, we celebrate the U.S. Marines' birthday, acknowledging the sacrifices of our past and present soldiers. Shannon Mclaughlin, Hospice Director of Quality Outcomes III at Compassus, is a Marine Veteran who shares how these two sides of her life have shaped who she is today.
How long have you been with Compassus?
I will hit my five-year anniversary with Compassus at the end of November! The past five years have had a significant impact both personally and professionally, and I'm grateful to be a part of such an amazing company and team.
What motivates you at work?
I get to help people. Every day my work influences someone else's life in a positive way. Whether that be in our quality care and education at the bedside, answering the phone to give advice to another leader or providing community education on hospice services, what I do matters, even if it's not direct patient care currently. Knowing that what I do has such a profound impact on others gives me joy and a feeling of pride for what we do every day.
Why did you join the Marines?
I left for the Marines in January 2004 about 9 months after I finished my associate degree at a community college in criminal justice with a focus on forensics. I wanted to work in law enforcement at that time and wanted the military experience to help propel me into that career. For me, there was no other choice than becoming a Marine. I came from a long family history of service; my dad and older brother were both reservists at that time. I wanted to be the best and achieve the hardest title. The other branches of service were just not an option for me.
What would you like people to know about what it's like to serve in the Marines?
The discipline, grit, comradery, leadership, and courage you learn and develop not only helps you get through the hard times, but it also has helped propel me forward in my personal and professional life.
What was the biggest lesson you learned while serving?
One of the big takeaways for me was that perception is reality. As a Marine, we are perceived through our appearance, actions, demeanor, leadership and even inaction. There's not an option to look sloppy in your uniform, be out of regulations or not meet physical fitness standards. It's important to always strive to be better, be the best and do the right thing–even when you think there is no one else around watching.
Can you talk about yours and your family's history with the military?
As I mentioned, I have a long family history of Marines, but we also have several Navy Officers in the family as well. I am still the only female to join the military in our large family. In 2005, after all my military schooling, I received orders to HMH-466, a San Diego helicopter squadron. We had orders to leave for Iraq shortly after that. We were in rotation with the West Coast squadrons, and I ended up deployed for seven months, home for 11 months and then leaving again three different times. By my second deployment, both my older brother and my dad were still in the reserves and hadn't been activated to deploy for the war yet. When I told my Dad I was leaving again, he decided it would be a good time to request orders as well. We weren't at the same base in Iraq–he went to Fallujah while I went to Al Asad–but he somehow was able to catch a helicopter ride to visit me for a day. We ended up on the front page of the newspaper and on the evening news back home. During this time, my little brother decided to become a Marine also and was in bootcamp at Parris Island. By the time I finished my third and final deployment to Afghanistan, I had spent nearly two years in a war zone. My husband, a career Marine, retired three years ago after 20 years of flying on helicopters. I was lucky to meet him the year before I got out of the service. My brother-in-law, who is married to my sister, is also a Marine. Between us all, we have a combined total of 17 deployments.
In what way do you think Compassus supports our troops or veterans (if you think it does)?
The We Honor Veterans program is amazing, and I'm proud that Compassus has a focused effort in supporting our veteran patients. We've also started a Veteran TBRG this year so we can better support our growing internal community of veterans within our organization.
How do you think others can support our servicemen and women?
A simple 'Thank You' goes a long way. Recognizing the sacrifices that were/are made and respecting that everyone's journey is different.
Shannon Mclughlin, RN, CHCPN, Hospice Director of Quality Outcomes III, Marine Veteran.