Honoring Veterans: Don Weeks' Wish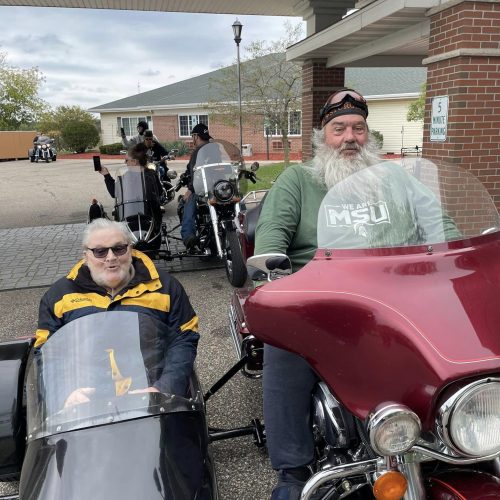 Honoring a Veteran
In the heart of Nekoosa, a remarkable story of kindness and community spirit unfolded. A story about an Air Force veteran and Compassus hospice patient Donald 'Don' Weeks, who shared his last wish with Compassus nurses. His simple but deeply cherished dream was to take a ride on a Harley motorcycle. Little did he know that this wish would spark an extraordinary chain of events, with the entire town of Nekoosa and its compassionate community coming together to make it come true.
Don's Dream
Don Weeks, a veteran who had dedicated his life to serving our country, had a dream. As he faced the later stages of his life, he disclosed a wish that was close to his heart, a wish for the thrill of a Harley ride.
Calling in the Troops
One of the heroes of our story is Compassus team member Trinisha Boland, also the owner of S.O.L. Cycles, a local motorcycle service and parts store. She took to her business's Facebook page to share Don's wish, never expecting the overwhelming response from the community. What happened next was truly incredible.
Nekoosa, Wisconsin Unites
The Nekoosa community responded to Don's wish with open hearts and open arms. The word quickly spread throughout the town, touching many. Local businesses, both large and small, offered their support. They displayed banners and signs, declaring their dedication to this noble cause.
The Bikers Rally
The local bikers' clubs were among the first to come forward. They were determined to make sure that Don's last wish was a ride to remember. A biker located over an hour away volunteered to have Don ride in his sidecar.  Bikers from near and far, known for their strong camaraderie and love for the open road, joined forces to honor a man who had given so much to his country.
A Day to Remember
The town of Nekoosa came alive on the day of Don's ride. People from all walks of life gathered outside businesses, pulled over on the side of the road, honking and cheering him on. Escorted by the local police, nearly 50 Harley motorcycles participated in the 45-minute ride led by the day's hero, Don.
The Journey Continues
But the celebration didn't end with the Harley ride. The following week, Compassus team members organized a "We Honor Veterans" pinning ceremony for Don, expressing their gratitude for his service. They presented him with a specially made blanket adorned in red, white, and blue, an Air Force hat, and a certificate of honor. Don was also surprised by two friends he had served with, whom he hadn't seen in over 20 years. A local Veteran's Biker Club presented him with a veteran sweatshirt.
Thank You
Don Weeks's story is a testament to the goodness that exists in our communities. Countless people came together to celebrate the life of a true hero in a way that will never be forgotten. This event was more than just a ride; it was a journey through love, unity, and compassion that will forever be cherished in the hearts of everyone it touched. Thank you to our Compassus Plover, Wisconsin team for making Don's wish a reality and for igniting our 'Care for Who I am" philosophy across the county and beyond. Thank you to the entire Nekoosa community for making the adventure possible. Most importantly, thank you, Don, for your service and for allowing us to be a part of your extraordinary ride and life journey.
Learn more about "We Honor Veterans" here. To learn more about our hospice program serving Plover, Wisconsin and surrounding communities see here.