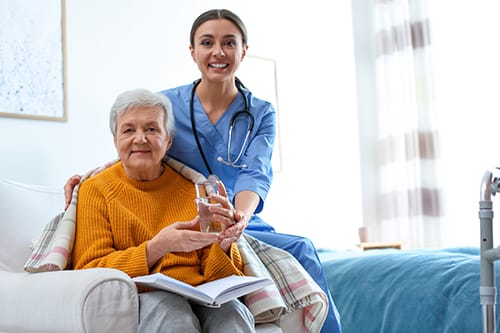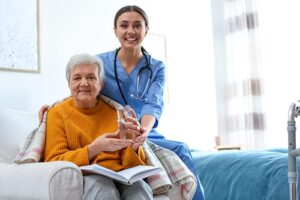 If a loved one has a severe illness, schedules, treatments, and the tasks of daily living may become overwhelming. If a condition becomes life-threatening, families are often reluctant to talk about what to do next. However, having discussions about how to start hospice care may ensure the patient receives high-quality care according to their wishes, providing relief to everyone involved.
At Compassus, we provide hospice care to give those with a life-limiting illness the comfort and dignity they deserve, surrounded by their families and close friends. We understand that starting hospice care can be difficult, so we're here to help guide you through the process.  
Hospice is a specialized form of care delivered by a team of professionals for people with a life-limiting illness. It provides physical, emotional, and spiritual care to the patient and their family members. This holistic approach to end-of-life care helps patients maximize their quality of life while providing comfort, dignity, and support throughout the process.
Anyone facing a life-limiting illness is typically eligible for hospice care. However, to accurately determine eligibility, it's essential to speak with a physician or other healthcare professional. 
When to Start Hospice Care
Physicians often recommend hospice care when a patient's illness no longer responds to treatments, and they have a life expectancy of six months or less. Patients with cancer, heart disease, lung disease, and other terminal illnesses may be eligible for hospice.
In addition to medical eligibility, many people have questions about the timing of starting hospice care. Starting hospice too early can delay receiving other treatments that may help improve the patient's quality of life. On the other hand, starting hospice too late can prevent the patient and their family from taking full advantage of the benefits.
The best way to determine the right time to start hospice care is to speak with a healthcare professional. They can assess the patient's condition and other factors to determine readiness. 
Hospice carries many advantages for both the patient and their family. In addition to providing physical, emotional, and spiritual comfort, hospice offers practical benefits, such as:
24/7 nursing and access to teams of professionals

Pain management 

Assistance with the activities of daily living

Help with paperwork and advance directives 

Bereavement counseling  
At Compassus, we understand that this is a difficult time for families. We're here to help you every step of the way, providing compassionate care and helping you make the best decisions for your loved one. 
How to Start Hospice Care
Starting hospice care begins with finding the right fit. It can be challenging to discern which facility or provider is best, especially when dealing with urgent medical concerns. Having honest conversations about what matters most to you and your family can help you meet your goals.
Speaking with hospice providers and asking questions is one of the most effective ways to find the proper care. You might ask any of the following questions:
What home medical equipment and personal supplies do you provide?

How do you manage pain and other symptoms?

What happens if we need emergency care?

Does the staff have experience dealing with specific illnesses?

What family support services do you offer?
You and your family are at the center of these plans and decisions. Ask questions and share your concerns to ensure the highest quality of care for your loved one.
Start Hospice Care at Compassus
At Compassus, our mission is to provide supportive, compassionate hospice care. We can answer any questions about how to start hospice care. Our team of experienced hospice professionals is here to support you during this difficult time. 
The dedicated team of experienced professionals at Compassus offers comfort and compassion to those in need. Contact us today at 833.380.9583 to learn more about how we can take the stress out of starting hospice care. We look forward to working with you.