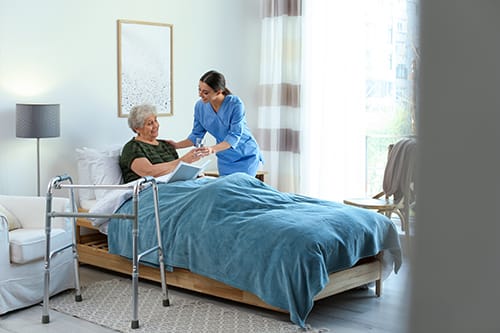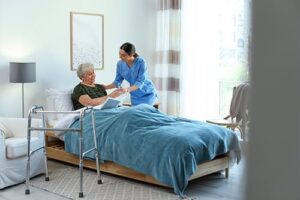 The hospice care admissions process journey from referral to at-home care and bereavement support can be confusing. It can be challenging to decide when the time is right, to know what care is available, and to deal with the emotions surrounding one's last days. Our printable hospice timeline is your guide to the typical steps for patients and their families.
If you're concerned about the hospice care admissions timeline you should take for your loved one, contact us at 833.380.9583 to speak to a Compassus team member for more information. 
Hospice Care Admissions Process
Comfort care and the hospice care admissions timeline begin when a patient or their family agrees with their doctor to request a referral for care when curative treatments are no longer an option. We will walk patients and their family members through the process of requesting hospice or palliative care. The following steps are the general timeline of the hospice care admissions process:
We will help patients and their families learn about the process, discuss their goals and concerns, and schedule a free consultation. The hospice provider completes a plan of care based on the patient's needs, goals, and values.
The admissions process for hospice care begins with an assessment. We arrange for a nurse visit on the day of admission. We assess needs, including medical equipment, personal supplies, and medications. Referral and admission are typically complete within 24 to 48 hours.
The patient and their doctor are always the center of care decisions. For more information, see our hospice frequently asked questions. We're also here to help with any questions.
Continuing care is often a part of the hospice care admissions process. Some of the benefits include the following:
24/7 access to care, including holidays and weekends

Home medical equipment and personal care supplies related to the hospice diagnosis

Pain and other symptoms managed to achieve the patient's goals

Respite care when family caregivers need relief

RN nursing support

Hospice aides to help with the tasks of daily living

Caregiver education and support

Social worker to help patients and their families navigate the medical system

Optional spiritual care for patients and their loved ones

A focus on the quality of life defined by the patient's goals and values

Grief counseling for up to 12 months after the passing of a loved one

hospice for mother
Something to note is that hospice is a fully covered Medicare benefit. Coverage includes nurses, other caregivers, medicines, supplies, equipment, and support, with no out-of-pocket expenses for the hospice diagnosis.
Taking Care of Yourself Through Hospice
It's also important to treat the signs of grief in the person caring for the loved one. Grief can start even before the death of a loved one. This anticipatory grief can be felt by anyone facing the possibility of death. It differs from the grief following death but has many similar symptoms, including denial, anger, isolation, and depression.
We help you know what to expect during end-of-life care. Support includes vigil volunteers and extra visits for challenging days.
Our care team will arrive shortly after you notify us of your loved one's passing. We'll contact your loved one's doctor and applicable officials. Patients and families may end hospice care and return to curative treatment or palliative care at any time. Families may also transfer to a different hospice provider to get their needed care.
Begin the Hospice Care Admissions Process at Compassus
We understand that end-of-life care can be challenging to navigate, and we want to be here with you every step of the way. Contact Compassus today at 833.380.9583 to learn more about our hospice care admissions process. We're here to help.