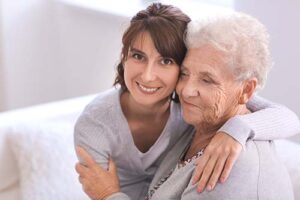 Making a decision about a hospice care provider can be challenging. Finding the right hospice provider for end-of-life care requires research and clear conversations with medical professionals.
Once a patient and their family has identified and accepted the need for hospice care, they should consider several factors when choosing a hospice provider. They might start by asking their health care providers for recommendations or search online resources. It is crucial to research any hospice care facility before committing. Compassus makes information about its services readily available to potential patients.
Compassus is a full-service home health care provider with locations nationwide. To find a location near you, visit locations 
How to Choose a Hospice Care Provider
When choosing a hospice care provider, a few things should be considered when approaching the topic and situation.
It is essential to research the hospice agency's level of care, staff experience, and how it works with insurance providers. Depending on your situation, some providers may provide better services than others.
Speak to Staff and Patients
Ask questions and get a first-hand feel for how the hospice care provider works by speaking to its staff and patients. This can help better understand how compassionate and attentive the provider is.
Know Your Insurance Coverage
Knowing what your insurance plan covers regarding hospice services is necessary, as this will affect how much you're responsible for. Be sure to ask how much your insurance plan will cover hospice services overall.
Review Hospice Policies and Procedures
Before making a decision, it's important to review the hospice agency's policies and procedures. This will help you get an understanding of how they handle care and how they address questions or concerns.
Conversations with doctors and hospice providers are more productive when you understand the patient's  goals and priorities. Some patients value awareness more than eliminating all their pain. Patients may want to realize a dream trip, while others cherish family time in the comforts of where they call home. Some potential questions to ask include the following:
What services and care are provided?

What home medical equipment and personal supplies are provided?

How will you manage pain and other symptoms?

Will Medicare cover hospice services or medications we need?

What staff will visit and how often?

What if we need emergency care?

What family support services are offered?

Is the staff experienced with specific illnesses?

Are there support services for veterans?

What staff qualifications or training do you require? RNs? Aides? Volunteers?

Is care available after business hours and on weekends?

What if we're not happy with nurses or other staff?

If we need inpatient care or respite care, what are our options?
A written list of questions will help you focus your thoughts. Family situations will change during end-of-life care. Ask how the plan adapts to your needs. Medicare and other insurance plans do not provide round-the-clock in-home care. Be sure to ask how often hospice staff will visit.
Preparing for Conversations
A written list of questions will help bring focus to conversations with potential hospice providers. Family situations will change during end-of-life care. Ask how the plan adapts to the needs of the patient and their family. Medicare and other insurance plans do not provide round-the-clock in-home care. Be sure to ask how often hospice staff will visit.
Find a Good Fit for Your Family
Doctors, hospital discharge coordinators, and home health nurses may have experience with hospice agencies in your area. They are good sources, but the final choice is yours. Web searches and online finders may also help you narrow down your options. Medicare requires a standard list of services from all Medicare-approved hospice providers. While services are similar, a hospice provider may have more experience with a specific medical condition.
Does Accreditation Matter?
Hospice agencies may open their programs to independent accrediting organizations. These organizations measure a provider's care and business practices against industry and Medicare standards. Hospice providers are not required to be accredited, but accreditation does offer an unbiased assessment of quality.
The three major accrediting agencies for hospice and palliative care programs are:
Community Health Accreditation Program

The Joint Commission

Accreditation Commission for Health Care
How to Choose a Hospice Care Facility
When selecting a hospice care facility for yourself or a loved one, the decision can be an overwhelming and emotional experience. It is crucial to collect as much information as possible and take the time to explore the many factors involved in choosing a hospice facility. These include levels of comfort and care, availability of resources, quality of amenities, comprehensive services offered, cost, proximity to family and friends, and staff credentials. 
In addition to researching online and talking with family members or friends who have had personal experiences, try consulting third-party sources such as online directories, professional organizations, and consumer review sites. Take responsibility for your research to make an informed decision that is right for you or your loved one—ultimately ensuring high-quality care in their final days.
Learn More About Choosing Hospice Care at Compassus
Compassus is committed to helping you and your family make the best care decision for end-of-life care. If you're unsatisfied with your current hospice care, Medicare and insurance providers enable you to transfer to a new hospice. You can also decide to end comfort care anytime and return to medical treatments for an illness. Compassus also provides support services and resources to help guide you through choosing hospice care.
Contact us today at 833.380.9583 with any questions or learn more about how Compassus can help.