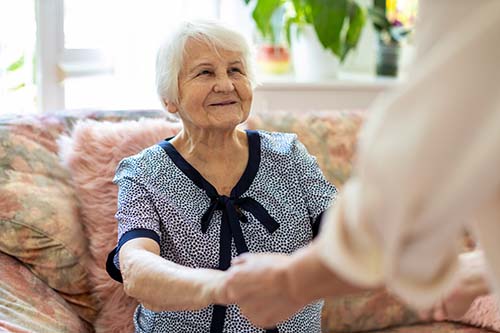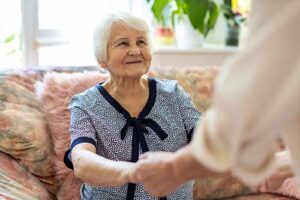 If you are unhappy with the hospice you or a family member are receiving, you may change providers once during each benefit period. Medicare hospice starts with two 90-day benefit periods, followed by an unlimited number of 60-day benefits. You can change providers once during those first two 90-day periods or once during the following 60-day periods.
You'll need to contact your current hospice provider to change hospice care providers and ask for a transfer form. The hospice must administer the transfer of care in a timely manner and can't unreasonably delay it. The hospice team should provide you with the proper paperwork and instructions on completing them. If you want to learn more about how to change hospice care providers, Compassus is here to help. Contact us today at 833.380.9583, and we will be happy to assist you.
Transferring Hospice Care Providers
Changing hospice care providers should be a smooth experience. Generally, hospice care providers have a set process for transferring services from one hospice to another. Patients can typically expect any equipment or medications associated with their hospice care to be transferred without interruption in service. The hospice team should also create a plan for moving care that meets the patient's needs and preferences. Here are some tips to follow:
Create a signed document that includes the name of your current hospice, the name of the new hospice, and the agreed-upon date of transfer
Give copies of the document to current and new hospice
Notify the doctor about the transfer
You will continue along the same benefit period timeline when transferring hospice providers. The receiving hospice must complete all assessments required by the hospice conditions of participation. If you're in a Medicare Advantage plan for hospice care like an HMO or PPO and want to transfer to a new hospice, ask your plan to help find a Medicare-approved provider in your area. It is your choice to start or stop hospice care. Once you begin hospice, you can stop hospice services anytime if you change your mind or seek treatments to cure a life-limiting illness.
Steps to Changing Hospice Care Providers
Have you been considering changes to your hospice care provider? It could be challenging to transition from one healthcare provider to another. Here are the basic steps for changing hospice care providers:
Contact your current hospice agency and request a transfer of records to the new provider – If needed, get assistance from family or friends in signing authorization forms for the transfer of care.
Discuss the change with your current healthcare team – Ensure that all information has been transferred before crossing off that item from your checklist.
Get additional assistance as needed to make the switch – It's recommended to reach out to your local Area Agency on Aging because they have programs designed specifically to support individuals.
With these steps, you can ensure a seamless transition of care.
How to End Medicare-Covered Hospice Care
The decision to end Medicare-covered hospice care is called a hospice revocation. To revoke the election of hospice care, you must give your hospice provider a signed written statement of revocation. There are no standardized hospice revocation documents or forms. Work with the hospice, so they understand your wishes and schedules.
Things to keep in mind when providing a hospice revocation statement:
Must include the date of the revocation
A verbal revocation of benefits is not acceptable
You may not designate an effective revocation date earlier than the date the revocation is made
The day of revocation is billable by the hospice
Your hospice provider cannot revoke your hospice election choice or demand that you end the hospice benefit
If you're looking for hospice care or need assistance changing hospice providers, contact Compassus. We are here to help you make the best hospice choice in terms of quality, cost, and convenience.
Get More Information About Changing Hospice Care Providers at Compassus
At Compassus, our team is here to help you every step of the way. Our hospice professionals are committed to making sure you and your loved ones get the best hospice care possible. We understand that changing hospice providers can be a stressful experience, so we've created a personalized approach to ensure your transition is smooth and seamless. Our hospice team will guide you through the process and provide you with the support and resources you need to make an informed hospice choice.
For more information about changing hospice care providers, contact us today at 833.380.9583.